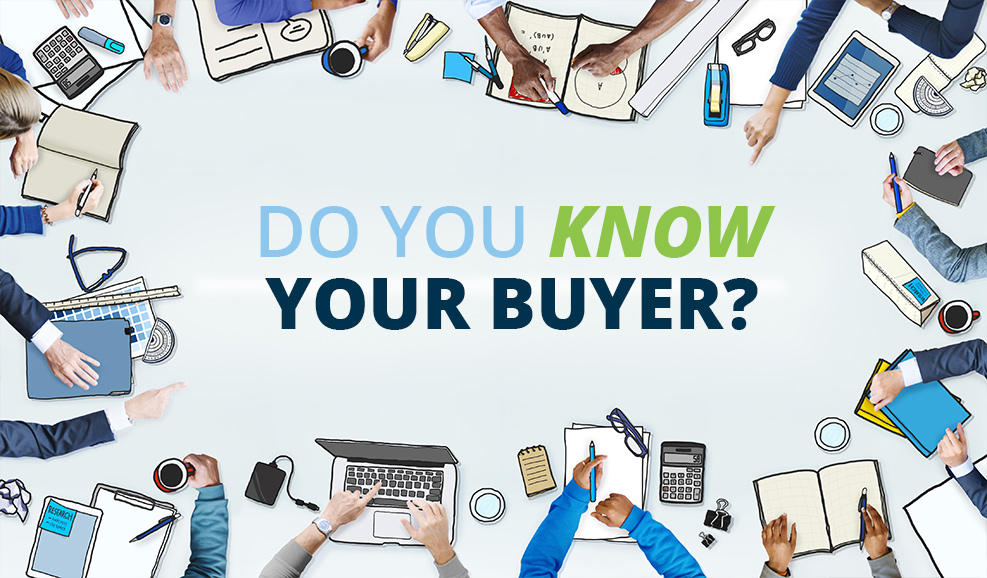 What & Why?
A buyer persona is a fictional representative of your ideal customer. Buyer personas go beyond demographic information and are meant to help you develop a full understanding of who is buying your product. If you know who is buying your product, you'll know how to sell it to them in a way that's meaningful and relevant.
Here is an example of a Startup Founder Buyer Persona: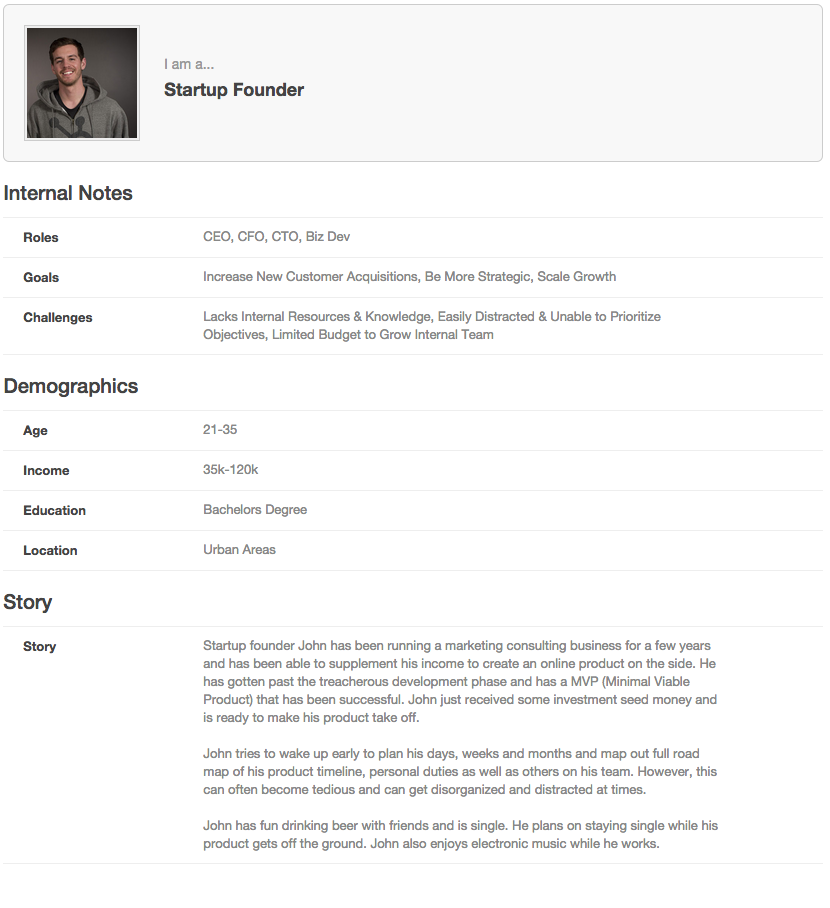 When we first meet with our clients, a common concern is narrowing down their target market for fear of missed opportunities. We feel the same will occur if you don't create and target buyer personas.
By developing research-based buyer personas, you can create effective, highly targeted marketing campaigns. Each piece of communication ties back to your buyer personas so that every message addresses relevant pain points and positions your software as a viable solution.
Where to Start with Buyer Personas
There are two valuable resources to create your buyer personas: your sales team and your current customers.
Your sales team will have insight into who they commonly need to speak to in order to make the sale, and what the pain points of everyone involved are. They can also provide what perceived barriers and obstacles they experience in closing the sale.
Your current customers are a gold mine for data. If you use a marketing automation software, such as HubSpot, you can determine common patterns and trends that led your customers to a sale. Did they visit certain pages on your website? Did they download certain content pieces? Are they still downloading content pieces or discussing your software on their social media networks?
In addition to tracking their marketing activity, choose 5 highly engaged customers and interview them to provide answers to the questions below.
Criteria in Creating Buyer Personas
Most SaaS companies will have a few buyer personas, but most commonly are those who will use your product and those who are involved in the decision to purchase your product (sometimes they are the same person, depending on company size). For each persona, you'll need to delve into the following:
What is their demographic information?
Although buyer personas reach beyond demographics, this is still pertinent information to obtain.
What is their role in the company?
Here is where you can define if this buyer persona is the user of your software or the decision maker. Each will have different motivators, so differentiating is key to your future messaging strategy.
What are their pain points?
Pain points are the struggles and annoyances your buyer persona faces and is actively seeking a solution for. Don't simply pull out benefits of your software and say the pain points are not having your solution. Validate with your sales team and customers to truly understand what motivates someone to consider your solution. This is another example of how distinguishing between the users of your software and the decision makers is key, considering their pain points may vastly differ.
What do they value?
Your buyer personas are doing more than simply seeking a solution to a problem. What will solving their problem do for them in the company? Will the earn recognition? Will their peers perceive them as an innovator? Will they save the company money, thus illustrating their financial acumen? Understanding what they value will enable you to truly state the relevant benefits of using your solution.
What are their perceived barriers or objections to your solution?
Understanding why a buyer persona would not include your software in their solution set is an eye-opening exercise.

In addition to learning obstacles directly related to your company (whether they're true or not), you can also gain insight into what else influences your buyer persona's decisions. Are they hearing mixed reviews from peers? Are there political barriers? Is it difficult to affect change in their company?
From Buzz Word to Buzz Worthy
The term "buyer persona" may have seemed like a trendy phrase for "target audience" in its humble stages, but the exercises from answering these basic set of questions provide much-needed insight. Everything starts with your buyer persona, and from there, your content strategy and product communication throughout the life cycle of your customer can remain on point. For a look ahead at what comes after you establish your personas check out how you can map your marketing content to your buyers journey.
Interested in setting up your own SaaS marketing strategy with your buyer personas? Let us give you a hand and work on your tailored marketing solution.