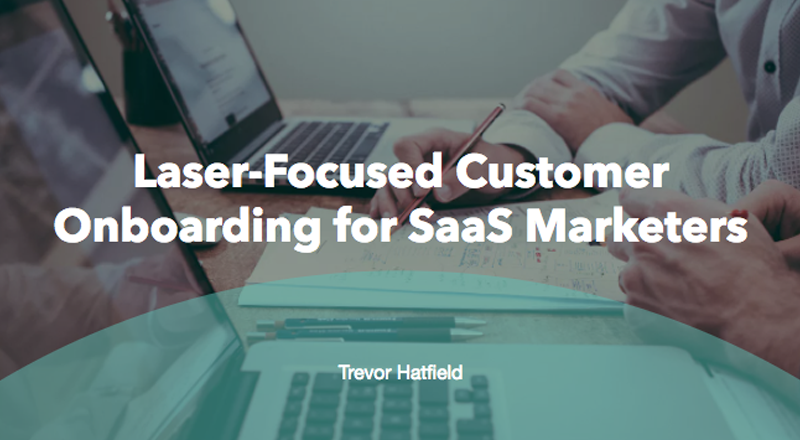 I recently did a 30-minute workshop for Forget The Funnel on creating better SaaS user onboarding that focuses highly on your customer and their desired outcome. I wanted to highlight the most important areas here.
If you are interested in watching the full video you can find it here: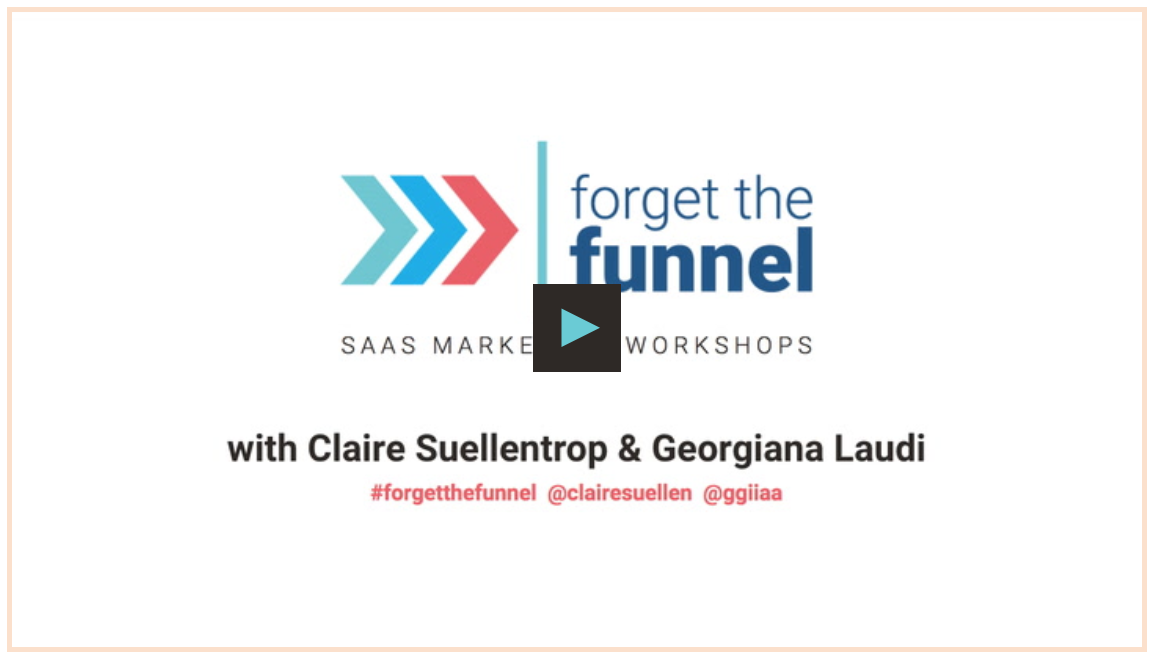 What is User Onboarding, or Customer Onboarding?
Whether you call it user onboarding or customer onboarding, it's the process of guiding new sign ups into active users of your product by clearly showing them the value of your product, solving their problem and getting them to achieve their desired outcome as soon as possible.
So, Why is User Onboarding So Important?
As a SaaS marketer, or SaaS Founder, our job is not done on initial conversion. This is especially true with free trial or freemium products where there is a low-touch sales process. There isn't an actual hand off of new leads to the sales team. But in either case, it's our job to have the user understand the value of the product, how it solves their problem and get them to their desired outcome asap.
If your sign ups aren't solving their problems and seeing clear value quickly, then you will lose otherwise potentially successful users.

Additionally, it's the backbone that aligns your marketing, sales and product teams together. An unfocused onboarding processes with foggy goals causes problems for everyone involved!
At Inturact, we have put together a journey map of what a complete SaaS marketing and sales funnel should look like, and what activities are required in each stage. This really helps to see a high-level view of all the required activities and how the different teams should be aligned, but can also be used as a great guide to build and cross-check your user onboarding around.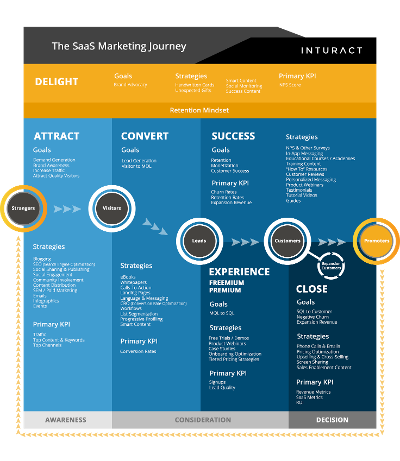 https://www.inturact.com/the-saas-marketing-journey
What are the Benefits of Getting Your User Onboarding Optimized?
Increase Retention / Reduce Churn

Solve the users problem faster and show the the product's value to keep them engaged and a loyal customer right from the start.

Increased Profits and Revenue

Help get your users to their aha moment faster and they will be ready to become paying customers. More will convert and at a faster rate helping increase your revenue.

Lowered CAC

More customer product upgrade conversions helps lower customer acquisition cost.

Increased LTV

As your retention increases and churn reduces you will see a great customer lifetime value (LTV)

Increased ARPA

Your average revenue per account (ARPA or ARPU) will steadily increase as your onboarding helps keep more customers happy and enlighten them on the value of upgrading plans or addons.

Create the greatest growth mechanism in negative churn through better upselling and cross selling.
The Door is Wide Open
40-60% of software users use a product just one time.
What does this mean? Well, the problem their product is solving is either not great enough, they are not showing the value of their offering fast enough and / or their users are definitely not achieving their desired outcome or seeing their aha moment at any point in the process. This is a huge issue.
How do we solve this problem? Let's talk about a few guidelines to keep in mind when creating your user onboarding strategy.
3 Important Guidelines for Creating Your User Onboarding Strategy
1. Focus on Your Customer's Desired Outcome
People buy outcomes, not products
Different is better than better
Try to know your customer better than they know themselves
2. Keep It Simple
Just try to always keep this on top of your mind. The second you think you could be overcomplicating things, you probably are. Reassess.
3. Know What is Working
And what is NOT working. Prepare to setup tracking and analyze your user onboarding to then optimize it. This is not a set it and forget it process. Expect to do this monthly and then quarterly once you feel it is working smoothly.
What Are The Building Blocks to Construct a Complete User Onboarding Process?
We look at user onboarding in 3 parts that are ever revolving.
1. Strategize
2. Implement
3. Optimize
It sounds simple enough right? Well, as with everything, it depends. Each product is unique and each will take on new challenges while going through the process.

Our goal is to first get you to "Good" onboarding and work towards "Great" onboarding.

So, let's look at what we can do to get you to "Good" onboarding.

In order to get your product started with a good onboarding process we recommend starting with these action items.

Strategize

Review Success Milestones & Desired Outcome
Review Actionable Metrics & Select Upgrade Triggers & Events to Track
Map out emails, in-app messages and walkthroughs

Implement
The area that we can help most with today is in your strategy. If you get this right, then you can work towards solving the best implementation and optimization process for your particular tools set and product build.
So, lets take a look at the 3 strategy items, discuss how they help and get you a few exercises to work through.
Instead of writing each of these areas out, I think it will actually be more helpful to review the video portion for a better explanation and walkthrough of the below worksheets. So, I will provide a link to the video and where to start the video for each section, so you can jump right to it.
Success Gaps, Success Milestones & Desired Outcome
The most important focal points. Close the gaps, achieve the milestones and focus on your customer's end goal.
Actionable Metrics (AARRR),
Acquisition, Activation, Retention, Referral & Revenue
The steps your customers will take within your funnel and the most important metrics behind them.
Learn more about SaaS actionable metrics and why they are the most important SaaS metrics for growth.
Mapping Out Email Flows and Triggered In-App Messages
Mapping out your email flows and triggers can be tough to solve. In this video I will show you a brief example of how we set them up and incorporate in-app triggers in the flow.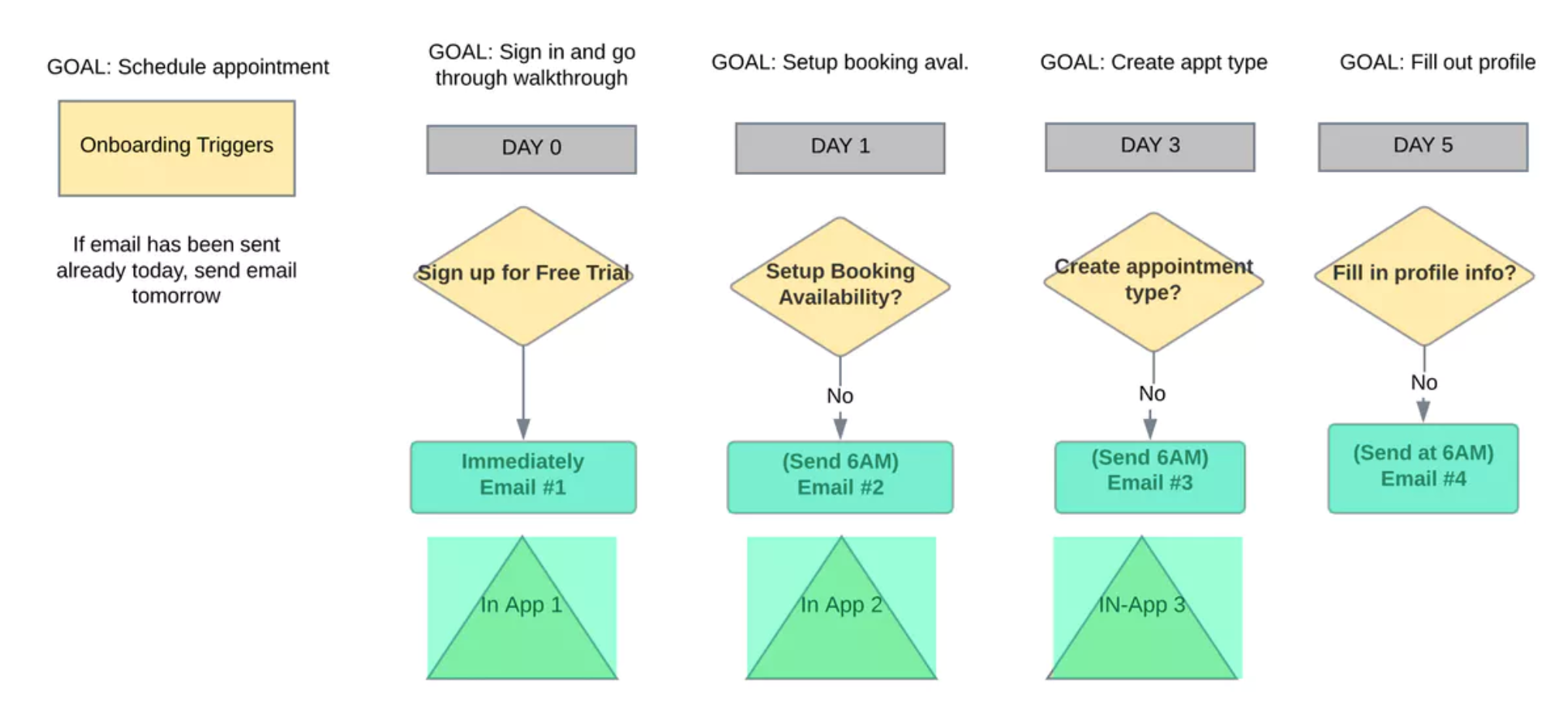 Implementation & Optimization
Working through implementing your strategy can be complex. We have a general onboarding tool stack that we like to use. Some of the tools can be substituted for others, but the process remains. Let's take a look at how it works.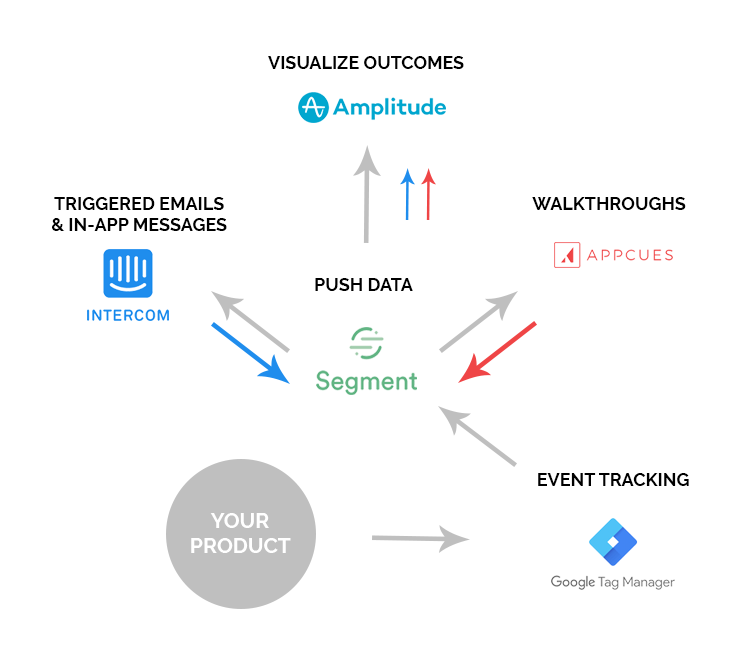 Note: This graphic was updated to reflect using GTM as a Data Layer
What each suggested tool is used for:

Pushing & Pulling Data - Segment
The backbone of your data as it sends and receives data from each tool and your product.
Be very careful with walkthroughs, make sure they are relevant and try to keep them under 8 steps. First decide if you need this. If yes, be sure to concentrate on the highest value areas only. These two tools will help you knock out a walkthrough in no time.
GTM will act as your Data Layer and will push site data and event tracking to Segment. Note: This should not be installed via Segment. Install GTM directly on your site and product and push the data to Segment. If you have GTM installed on your site and Segment you can have duplicate data issues. This is the only tool you will not want to install from Segment.
Triggered Emails & In-App Messages - Intercom
The best tool for running user onboarding emails and triggering timely in-app messages is Intercom. There is some upcoming competition like ConvertFox, but it still is our primary tool of choice at the moment.
Visualize Outcomes - Amplitude
There are a variety of tools in this space that will help you take all the data pushed to Segment and create visual funnels, charts and graphs. We chose Amplitude because it gives you 10 million free events and is plenty for any SaaS product looking to start with better tracking.
Once you're setup and tracking your user onboarding process you most likely will have to tweak and add areas for a little while to refine the tracking and implementation. Don't worry, that is normal. Just try your best and look for ways to improve the process, always focusing on closing those success gaps and getting your customer to their desired outcome.
Need some help with your user onboarding?
Are you missing out on new revenue because of poor user onboarding? Not sure where to start, or afraid to do something wrong?
With our proven B2B SaaS user onboarding framework, we'll plan, build and implement an effective onboarding funnel that will increase free to paid customer conversions so you can confidently grow and scale your SaaS business.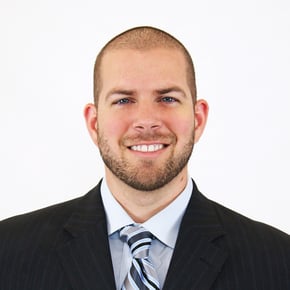 Trevor Hatfield
Trevor Hatfield is the founder of Inturact and strives to create highly tuned marketing machines for their clients websites, products, and apps. While also constantly keeping up with technology and building a team of multifaceted and dedicated professionals.