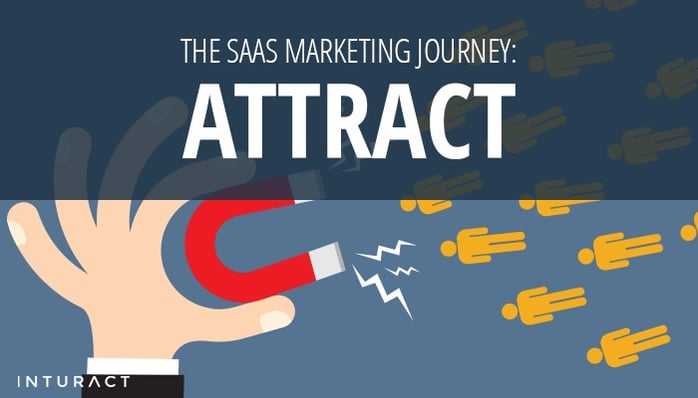 With subscription-based models like Software as a Service (SaaS) increasingly becoming the industry standard, it's more important than ever for companies to have a concrete knowledge of how to shape their marketing strategy into something scalable and tailor-made to meet customers' specific needs. For years, SaaS marketing was largely defined by traditional inbound marketing methodologies (including a key infographic from HubSpot), but the continuing evolution of the industry has cultivated the need for a more robust approach.
The SaaS Marketing Journey
Appropriately, we've developed our own expanded take on the process, which we are calling the SaaS Marketing Journey. Applicable to organizations from startups to simply those established players seeking significant growth, it contains all the details you need to successfully market your SaaS product, provided that you have achieved product-market fit and are ready to proceed to the next step.
To keep you on the path toward building your business, we'll be bringing a step-by-step breakdown of the SaaS Marketing Journey. This course of action will allow you to transform uninitiated prospects into engaged members of your customer base who are then able to spread awareness of your company and its products. Here's a preview of the complete SaaS Marketing Journey:
See The Complete SaaS Marketing Journey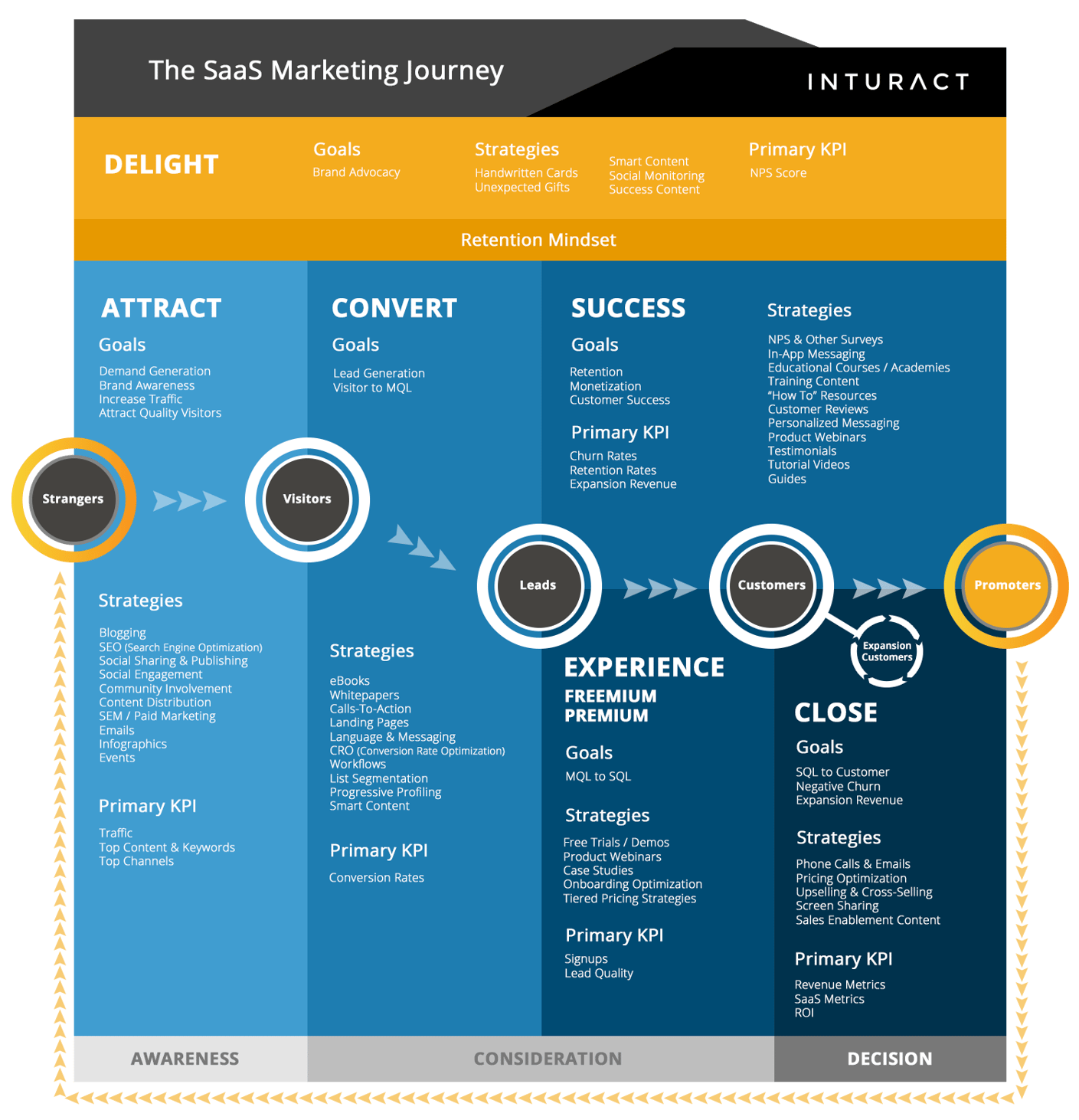 Share this Image On Your Site
Subsequent installments in this series of posts will delve into the primary components of this process, but to start, we'll address the initial stage that first entices disconnected consumers to take notice of your product, namely the Attract phase.
Time to Attract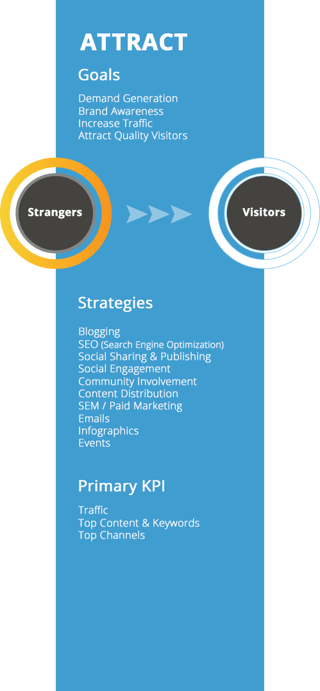 Before more decisive steps can be taken to develop a prospect into a satisfied customer, the first step is to expose new individuals to the benefits that your product has to offer. However, it's essential to not waste your energy -- and marketing resources -- persuading just any willing consumer to take a look at your product. Rather, knowing your customer is the key to attracting their attention and grooming strangers into the visitors you seek. Moreover, this gives you the opportunity to optimize the subsequent stages in the SaaS Marketing Journey.
Because the end goal of winning consumer interest is so inviting, it shouldn't be too surprising that this first stage is oftentimes the one that is most commonly overlooked. The temptation to simply leap into action may be difficult to resist, but we promise that the structure you put in place to drive targeted traffic will make all difference. Once you have the data you need about your target market, the time has come to proceed with your attraction approach.
What You Can Achieve
Characterized as the part of the journey centered on building awareness of your product, this stage aims to establish brand awareness and create a genuine demand from your prospective customer base. As stated above, customizing your marketing strategy to pinpoint the quality visitors that will legitimately benefit from what you have to offer ultimately saves you a ton of money and will protect the long-term viability of your product.
In addition, this targeted technique maximizes the chances of increased traffic as well as familiarizing consumers who are already in circumstances that make them far more likely to become customers sooner rather than later. Subsequent stages will help prospects continue that particular journey, but for now, the Attract phase primes them for conversion by helping them realize that your product is exactly what they need to solve their problem.
The Strategies You Can Use
Now that you know what you can accomplish throughout the Attract stage, we bet you're wondering exactly how to do so. Luckily, many different options are at your disposal, and as you might expect with inbound marketing tactics, many of them center on content marketing and engaging with potential customers and communities via social media. Here's a rundown of the most popular strategies you can use:
Blogging:

Creating relevant content is a critical step in developing your prospects into customers. Blogs are one of the best ways to demonstrate your product knowledge and establish your company as a true authority.
Search Engine Optimization (SEO):

SEO goes hand in hand with creating quality content. Using relevant keywords and mindfully preparing your online presence to attract your desired customers goes a long way toward developing a loyal audience.
Social Sharing/Social Engagement:

Social media platforms like Twitter, Facebook and LinkedIn have become exponentially more integral parts of any sound marketing plan, and your company cannot afford to ignore the driving benefits that accompany these venues.
While the approaches above are among the most widely used in attracting new prospective customers, here are a few others that you might consider:
Community Involvement/Events

Content Distribution

Search Engine Marketing (SEM)/Paid Marketing

Emails/Newsletters

Infographics/Image Marketing
How to Measure Success
Okay, so you've implemented some of the above SaaS marketing strategies, but how do you know if all your effort is paying off? Thankfully, metrics and other key performance indicators (KPIs) can clue you in on what's working and what may need to be adjusted for better results.
Traffic Numbers:

Of course, analyzing the traffic your site has seen is perhaps the most obvious way to gauge the increased engagement driven by your marketing efforts. Still, it remains the easiest, broadest indication of change in the interest generated.
Top Content and More:

Much like traffic figures, the numbers detailing which content, channels and keywords perform the best -- whether by assisted conversion or otherwise -- can help you decipher your customer base. Even better, this data can help you decide how to develop your audience further going forward.
Shared Content:

If you employ an active presence on social media (as we highly recommend you do), you'll have even more glorious data at your fingertips. Taking a closer look at the most popular content and channels you're involved in can help put you in the mindset of your customers. Likewise, the click-through rate of your call-to-action can establish if the content you're releasing is piquing interest in your target audience.
Attract is Just The Tip of The Journey's Iceberg
We look forward to continuing to share our trip through the SaaS Marketing Journey and delving in-depth into each step along the way. Stay tuned for more information in the near future, and prepare to revitalize your perspective on best marketing practices for your SaaS business. Next up, Covert.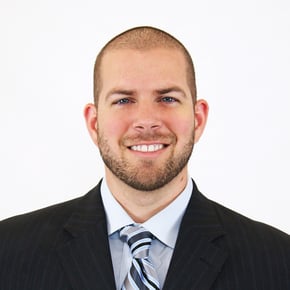 Trevor Hatfield
Trevor Hatfield is the founder of Inturact and strives to create highly tuned marketing machines for their clients websites, products, and apps. While also constantly keeping up with technology and building a team of multifaceted and dedicated professionals.