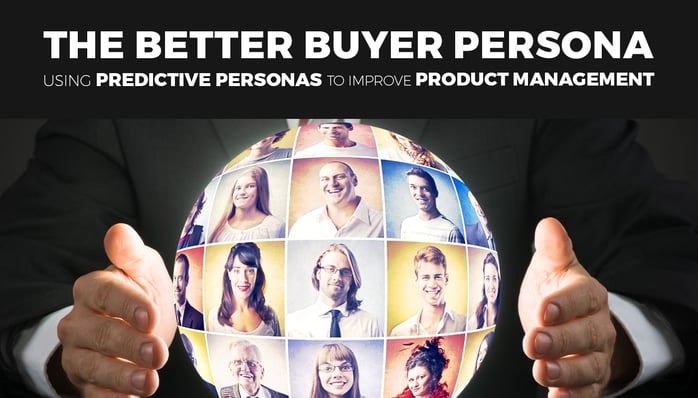 Meet Lisa. Lisa is a 35 year old mother of one with a 4-year university degree who works full-time as an executive assistant for a Fortune 500 company. She's so busy, she can barely find time for grocery shopping, and when she does make it to the store, she invariably forgets her shopping list. Lisa is also relatively useless as a Buyer Persona.
Surprised?
The inbound marketing community has been touting buyer personas for years as the cure for ineffective SaaS content marketing, the rallying cry that unifies product development strategy, and the face of the ideal customer your business hopes to cultivate.
That's not an inaccurate benefits list. We love a good buyer persona, (use this cheat sheet to help you map out yours), but we've noticed that few companies are building them correctly, and even fewer companies are doing this:
Building a predictive persona
The nuts and bolts of a traditional buyer persona are…
Demographic information

– Gender, age, education, career, geographic location

Psychographic information

– Role in the family, role in the company, needs, wants, fears

Personal details

– Favorite brands, extracurricular hobbies, favorite media and entertainment
But these details do not a whole person make. You're missing key ingredients, like:
The most important goals this person wants to accomplish (what is really important – in and outside of work?)

What is at stake if this person fails to accomplish those goals

What drives them CRAZY on a regular basis (and I mean, really crazy)
And even if you have all of these ingredients, you still may not have a buyer persona that actually works. But you'll have a darn good description of who you'd like your customer to be.
Take your current buyer profile, your current description, and consider this question:
If you were to recruit ten people based entirely on your description, and you pitched them, what is the likelihood that you could you sell your product to 9 out of 10 of them?
No?
Then your carefully crafted persona is useless.
Now, if you recruited ten of your current users, they might all fit your description. But it has to work both ways. You need a buyer persona that helps you find people you know will become users of your product.
"A predictive persona is a tool that allows you to validate whether you can accurately identify somebody who will become a customer." – Laura Klein, UsersKnow.com
What a predictive persona looks like
Includes specific behaviors and problems that the vast majority of your users share

Identifies specific problems/needs/wants that make the person want to be your customer

Confirmed through actual research, not guesswork
By all means, start with looking at your current users. But not just any and all users – this is where implementing a Net Promoter Score (NPS) survey can come in very handy.
Finding your fit with NPS
The only people you want to base your persona on are your very best customers. The ones who love you. The ones who feel lucky to have found you. The easiest way to separate the wheat from the chaff is through a NPS survey. It's super simple.
Ask "On a scale of 1 to 10, how likely are you to recommend [product] to a friend or colleague?"
* Then, ignore all respondents who score below a 9. Sounds like a harsh cutoff, right? It is. Deliberately so.
These 9's and 10's are the raw materials out of which you'll make your predictive persona. Once you've identified them, your job becomes to observe their behaviors from pre-sales through onboarding and current usage to look for patterns. Then, base your hypothesis of your buyer persona on what you find.
*A number of apps and products have sprung up to help you do this – we like Wootric, since it lets you place the survey within your app.
You're not done yet – test time!
Once again, you'll find yourself with a really good description of your target buyer. But it's still not a predictive persona.
It's not a predictive persona unless you go out and test your hypothesis.
Take your list of common characteristics and find a group of people who fit your description.
Then, try to sell them your product.
For real.
If they put money down, you've got a fully functional, ready for action predictive persona. This is the persona with which you can make product development decisions. This is the persona that can guide your marketing efforts. This is the persona that accurately reflects your problem/solution/market fit and will make you money.

If your test fails, then it's time to go back to the drawing board to find the things that make people want to be your customers – the stuff that makes your best customers feel lucky to have found you.
In product management, it's your job to get the product to launch with efficient, smart marketing behind you. Make sure that behind your product, and your marketing, you have a buyer persona that works.
For more on engaging with a single, shining vision of your ideal customer, consider reading our eBook on aligning your product development and content marketing to create a sustainable system for acquiring and retaining your ideal customers. Click below for your free guide.
Christina Clemens
Check out all of the latest marketing blogs written by Christina Clemens, Inturact's Client Success Manager.