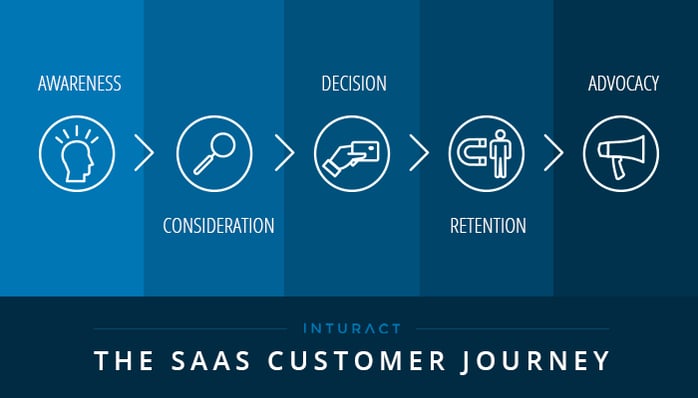 The buyer's journey has been around quite some time and comes in many forms. The purpose, however, remains the same. The buyer's journey is the process buyers go through to become aware of, evaluate, and purchase a new product or service. By mapping out this journey one can create clear messaging and content more specifically to the discovery stage that potential customers are searching within and ultimately drive and convert more qualified leads.
Traditionally the buyer's journey looks something like this:
The Traditional Buyer's Journey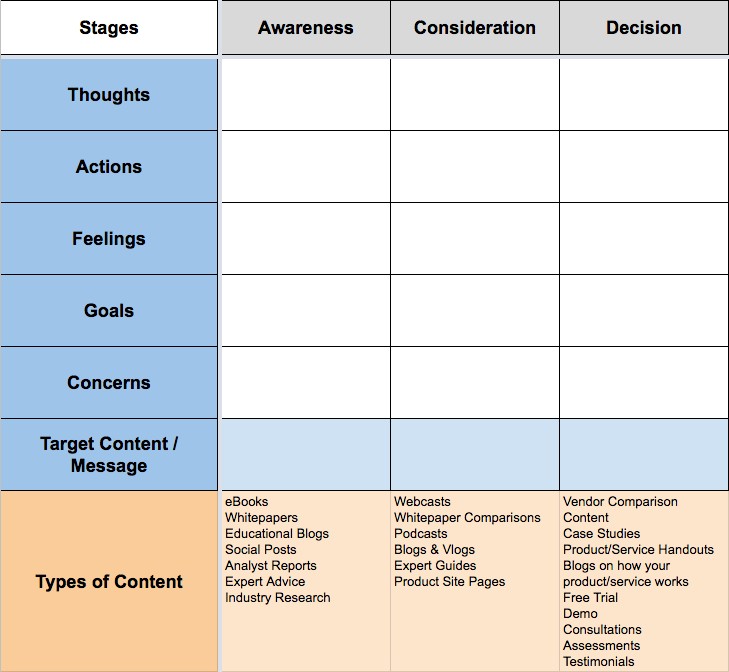 To understand each stage a little better and what questions you should be asking to complete the table, here is a breakdown thanks to the masters of inbound and the buyer's journey: HubSpot.
Awareness
During the Awareness stage, buyers identify their challenge or an opportunity they want to pursue. They also decide whether or not the goal or challenge should be a priority. In order to fully understand the Awareness stage for your buyer, ask yourself:
How do buyers describe their goals or challenges?
How do buyers educate themselves on these goals or challenges?
What are the consequences of inaction by the buyer?
Are there common misconceptions buyers have about addressing the goal or challenge?
How do buyers decide whether the goal or challenge should be prioritized?
Types of Content
eBooks

Whitepapers

Educational Blogs

Social Posts

Analyst Reports

Expert Advice

Industry Research
Consideration
During the Consideration stage, buyers have clearly defined the goal or challenge and have committed to addressing it. They evaluate the different approaches or methods available to pursue the goal or solve their challenge. Ask yourself:
What categories of solutions do buyers investigate?
How do buyers educate themselves on the various categories?
How do buyers perceive the pros and cons of each category?
How do buyers decide which category is right for them?
Types of Content
Webcasts

Whitepaper Comparisons

Podcasts

Blogs & Vlogs

Expert Guides

Product Site Pages
Decision
In the Decision stage, buyers have already decided on a solution category. For example, they could write a pro/con list of specific offerings and then decide on the one that best meets their needs. Questions you should ask yourself to define the Decision stage are:
What criteria do buyers use to evaluate the available offerings?
When buyers investigate your company's offering, what do they like about it compared to alternatives? What concerns do they have with your offering?
Who needs to be involved in the decision? For each person involved, how does their perspective on the decision differ?
Do buyers have expectations around trying the offering before they purchase it?
Outside of purchasing, do buyers need to make additional preparations, such as implementation plans or training strategies?
Types of Content
Vendor Comparison Content

Case Studies

Product/Service Handouts

Blogs on how your product/service works

Free Trial

Demo

Consultations

Assessments

Testimonials
We know customer success is extremely important within SaaS, so what about after they become a customer or even your current customers? Working within the SaaS industry we quickly realized we needed to modify the traditional buyer's journey and add the missing stages of the customer journey.
Making sure our customers are getting value from our product and are becoming evangelists is extremely important, right? Then, we need to also concentrate on helping them beyond their initial purchase and realize their potential for upsells, cross sells and referral revenue. We really need to create content to help our customers and brand advocates get the most out of our product and fulfill their desired outcome. After all, customer success efforts are much less effective without customer success content.
So we agree that we need to incorporate customer success within the buyer's journey and we need to create customer success content, but how do we add this to the Buyer's Journey?
We've decided to concentrate on two primary areas:
1. Helping customers after initial conversion and customer retention
2. Evangelists and how they are building our brand advocacy army
So, let's add these to the end of the buyer's journey -- a Customer Retention and Evangelists column -- and change the name from the buyer's journey to the SaaS Customer Journey.
Here is what it looks like:
The SaaS Customer Journey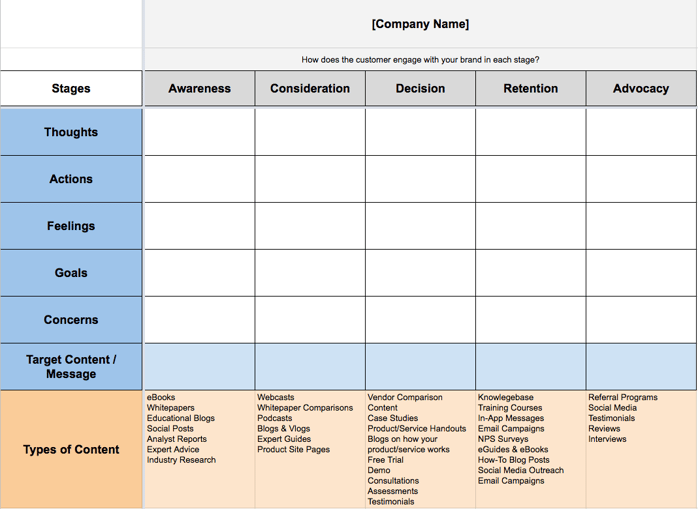 Let's break down the new stages of the SaaS Customer Journey and what questions we need to ask in order to map them out.
Retention
In the Retention stage, buyer's are now customers and the concentration shifts to retaining them.
How are they determining they are happy with the product?
What are the primary actions they are taking in your product?
What areas are they getting the most value?
Are you solving their pains and gains?
Are you helping them achieve their success milestones and desired outcome?
Types of Content
Knowledgebase

Training Courses

In-App Messages

Email Campaigns

NPS Surveys

eGuides & eBooks

How-To Blog Posts

Social Media Outreach

Email Campaigns
Be sure to customize your content for the needs of your specific audience. Maybe your ideal customer doesn't have time to go through a training course. If that's the case, what will he or she have time to read? Emails or triggered in-app messages?
Advocacy
In the Advocacy stage, we are now talking to your evangelists and brand advocates, your army of followers that love your product.
Why do they want to share your product with their friends and network?
How will they tell others?
How will you encourage them and incentivize them to tell others?
Is it easy for them to share their good word?
Types of Content
Referral Programs

Social Media

Testimonials

Reviews

Interviews
To make mapping out your SaaS Customer Journey easier, we have created a Google Sheet template that incorporates everything above to give you a head start. It also includes an example of a Facebook ads platform to give you an idea of how another product may map out their full journey.
If you want help mapping out your SaaS Customer Journey, we're here for you. See if a consulting engagement might be right for your company.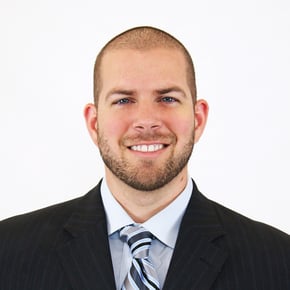 Trevor Hatfield
Trevor Hatfield is the founder of Inturact and strives to create highly tuned marketing machines for their clients websites, products, and apps. While also constantly keeping up with technology and building a team of multifaceted and dedicated professionals.