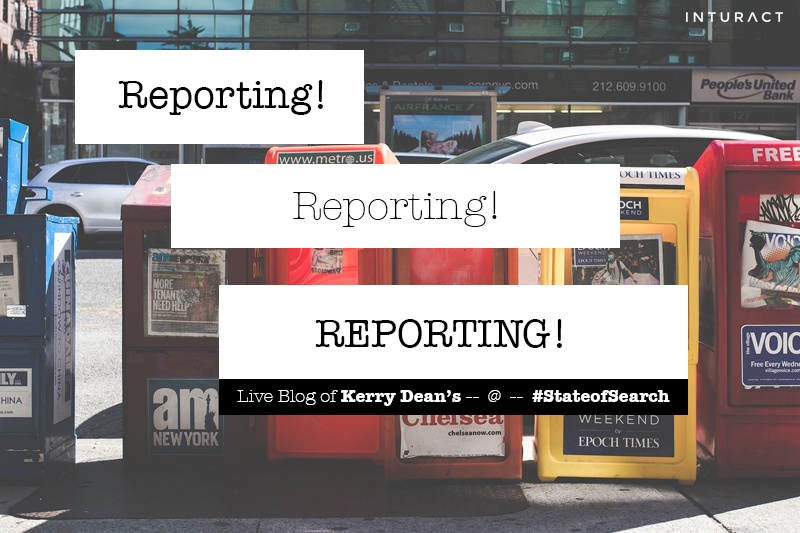 Kerry Dean walked out on stage in a Star Trek costume as "Big Data", a winning start to an excellent presentation about tracking data. It was the last session of the afternoon at a mind-filling day of State of Search and we could all use a little laughter. Kerry's session was full of fun and useful information.
"SEO is never the same from brand to brand, site to site, platform to platform, or industry to industry. Every site requires a unique SEO strategy."
Kerry said not to trust any grand solution to SEO, you have to put in the work to identify the right strategy for your business.
The more data you have, the more power you will have to go forward. But big data by itself "isn't cool." It's small data that you want to pay attention to - the intricate insights within the data. This is because "clients want the story, not the data."
So without further ado, here are his recommended reporting processes.
Channel Reporting Areas
Sessions data
Revenue data
Ecommerce data
User/US data
Events data
Rankings data
Best Practices
Look at total site vs. organic. When analyzing this information, look at total site data in comparison to organic session data to see if they are trending in the same direction. Also look at the percent change - 20% growth is representative of a healthy site.
PPC & SEO go together. Kerry said there is a close relationship between PPC and SEO. This is something we're hearing a lot of nowadays - the importance of running your paid and organic campaigns concurrently. Kerry has data showing this is definitely the case.
Segment your data by search engine in your reports. Some engines may have a unique impact on your organic search changes and some may be more valuable than others.
Report device data separately. This can be pulled from Google analytics and is valuable for showing what is trending up or down for your website.
Review UX data by device. Look at conversion rate and bounce rate for a peek into your customer's experience of your mobile pages.
Paid & SEO Trends
Local knowledge graphs are above organic results.
There are more paid ads and more paid sitelinks.
Increased PLA real estate.
These changes are causing a shift in brand and non-brand sessions - especially on mobile because these results are pushing organic rankings down to the last line or two on the screen.
Really, the key takeaway from this section was that if you're seeing 10 - 20 percent growth in organic branded and non-branded results, you are doing a good job. So much of the organic results are being pushed down by paid ads and knowledge graphs, there is not a lot of real estate left.
SEO is Big and Getting Bigger
There are eight major buckets to review and data should be analyzed in all of these areas:
Traditional SEO
Technical SEO
Mobile / App SEO (it's only a matter of time where these areas will need their own buckets)
International SEO
Digital Content
UX + IA + CRO
Digital Asset Management
But bottom line, align all of these reports to a Key Performance Indicator or a project so that the data tells a story. Kerry suggests a goal of driving traffic to category or product pages (not the homepage, which will bring your averages down).
Final Thought: Have a Data Philosophy
Establish your metrics and measure them appropriately.
Utilize data sources to tell your story.
Make sure to develop custom reporting when needed.
Boy, he had a lot of information! I'll be sure to attach his slides here as soon as they are available because he had a boatload of excellent information.
Be sure to follow our blog for more of the latest marketing information!