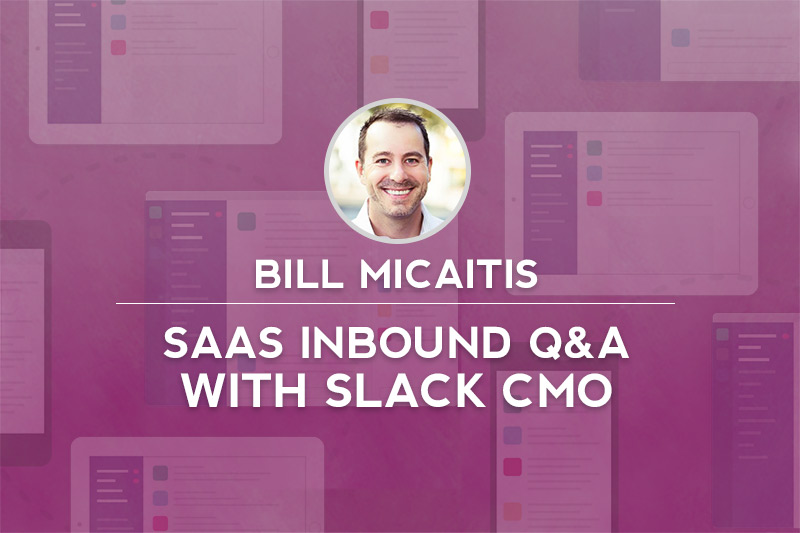 Interested in SaaS Inbound Marketing?

Missed The Fireside Chat with Slack CMO Bill Macaitis? Have no fear. The live blog is here!

It's not every day that you get the opportunity to hear real industry experience, stories, tips, tools, and tactics from the world's greatest in your profession. Bill Macaitis, we believe, is one of the world's greatest in the SaaS marketing industry.

Many missed out and we think that is a true tragedy. Read on for the highlights of the Bill Macaitis interview at Hubspot's #Inbound15.

The Slack CMO was unassuming and humble about his achievements as he answered questions about himself, his experience, how he does it, and (this is the big one here) how Slack has done it.

You don't get to the title of CMO at a company like Slack without proving yourself first. Bill spent several years at Salesforce as SVP of Online Marketing & Operations and later CMO of Zendesk and successfully led Zendesk to a $1.7B IPO by growing revenues 362% and moving up market. Bill was asked what he believed were contributors to Slack's exponential growth and undeniable success as a SaaS company. His answers were insightful, eye-opening and informative.

Several of the main contributors to Slack's success that Bill highlighted were:

1. NPS Scores

Net Promotor Scores are incredibly important at Slack. This was the first thing Bill mentioned when asked about Slack's ground-breaking success in the SaaS industry. The trick is not to simply have NPS scores, you have to go a step further and implement them. What is crucial for Slack is the way they use their NPS score data.

Slack uses their Net Promotor Scores to:
Amplify marketing into the right channels
Make data-driven decisions for product updates
Be rock stars at Customer Success
Unify their company culture and hiring new talent within it
Streamline internal activity
Direct and measure internal effort
Turn qualitative data into quantitative data
"It helps get your entire company behind and rallying around what the main focus of what your company should be," said Bill on NPS scores.
2. Core Values
The success of Slack is not an anomaly says, Bill. Slack is now at around 250 people. Yet it is a traditional business growth story like any other company that starts from nothing and grows to something (big, in Slack's case.) "Almost every SaaS company I have ever seen grow, starts the same. They start at VSB then move to SMB and then beyond. I don't believe Slack is any different." - Bill Macaitis.
As Bill discussed the growth of Slack he referenced that the exponential growth was possible in a very large way due to the people they had at the company and the core values that the company stood on.
The Slack Values that Bill emphasized as main contributors to their growth:
Empathy
Courtesy

Craftsmanship
On the topic of craftsmanship, Bill expanded on what truly encompassing that value has allowed Slack to do as a SaaS company and why that value is such an important element to their success.
Making craftsmanship a core value has allowed Slack to:
Find the ideal go-to-market model

Prove they are a customer-centric company and reap the rewards of a loyal fan base

Provide provisioning that converts SaaS clients to SaaS promoters of their brand

Develop a product that delivers beyond expectation enough to encourage word of mouth marketing



When looking for new talent Slack asks if you would "paint the back of the drawer"? Meaning if you were to paint drawers in a dresser would you paint the very back of each of the drawers where no-one necessarily sees? This is one of many practices in finding out what kind of attention to detail you possess in the hiring process.

Content Marketing for a Large SaaS Company
Contrary to the popular belief of most mid to large sized SaaS company C-Level Execs and Owners, content marketing DOES have a place and a big place. Bill Macaitis believes in it, has used it at previous companies and fully implements it at Slack.
There are big differences between content marketing for a traditional SMB and content marketing for a SaaS company.
Content Distribution for SaaS Marketing is Different
The content is distributed differently in SaaS marketing than in traditional marketing. When marketing a traditional product, you typically weight your blog content to be primarily awareness and consideration stage, by-passing decision stage content.
This is not the strategy that Slack takes. Check out the Slack blog and you will see it does not follow this traditional inbound marketing model. Their content stays almost entirely in the decision stage, focusing on product updates, company news, and company culture.
So. We couldn't help it, we were so close. We hopped up and asked the question. You may have even seen our #NoSaaSHoles shirt. We asked Bill to dive deeper into how at Slack they navigate content marketing and distribution so smoothly.
Fearless @Inturact SaaS Lover: "Bill. Do you believe that there is a place for awareness stage of the funnel content in SaaS companies with a broad client base and a steady stream of new leads by word of mouth?"
Bill's answer was a resounding: Yes!
You just have to put your awareness stage content in a different place, and deliver it in a different way. Awareness content grabs low hanging fruit and is essential to maintain growth. You have to believe in content marketing and stick with it to uncover the benefits of the TOFU (top of the funnel) content, as it takes much longer to see the results.
Understanding the difference between content marketing for an SMB and content marketing for a SaaS company is as simple as a nice sweet journey down memory lane to our basic Inbound Methodologies and remembering your Buyer Persona. You can actually find some of Slack's awareness stage of the funnel content on their podcast, Slack Variety Pack.
And there you go. Words from the wise.
As we walked out, we found ourselves immediately in a passionate discussion with some fellow SaaS Inbounders (S/O to AppEagle) currently navigating the new pathways with their SaaS product and we loved it! We love the opportunity to talk SaaS, talk inbound and teach what we have figured out with many other SaaS companies through their inbound marketing success journeys.
If we didn't see you, but you would like to talk to us about your SaaS inbound strategies, click below for your free inbound assessment and we will be in touch soon.