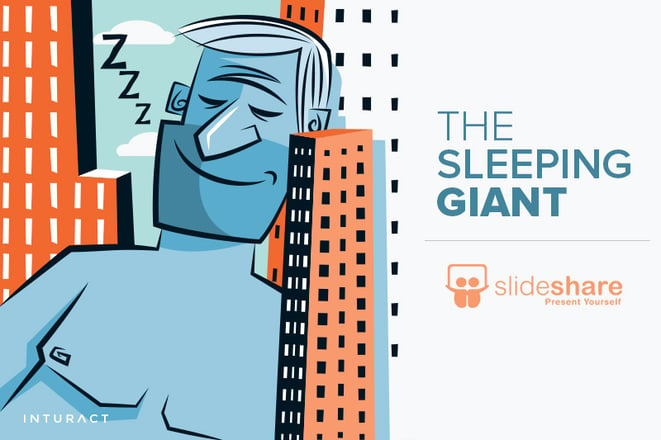 Which digital sharing platform is made from the stuff of marketers' dreams? If you guessed SlideShare, you're a winner.
This sleeping giant is only beginning to wake up and take on the marketing world with its full potential. If you're wondering how to use SlideShare for your marketing efforts, you've come to the right place. You can use this versatile platform beyond sharing slides and slide decks. While that in itself is pretty exciting, the actual benefits go much deeper.
What Are the Benefits of Using SlideShare?
There are big benefits that come along with SlideShare marketing that can contribute to your content marketing strategy. Here are just a few:
Off-Site SEO
Publishing to SlideShare will create a link back to your main site and your social profiles. This is a simple way for individuals and companies to accomplish one of the basic SEO techniques of building quality links back to your website, considering SlideShare is a site that will increase your domain's trust.
Curious about No-Follow links and how they help your SEO?
Expanding Reach
SlideShare also helps its users expand the reach of their content beyond their existing viewer base. Your slides will be categorized so that they can easily found by interested SlideShare users. There are also options for global distribution and embedding the content on your website.
Increasing Engagement
The immensely popular e-learning platform can be used for everything from education to entertainment. Users can engage with the creator and provide feedback with ratings, comments, and shares. The responsive web design means you'll be able to comfortably create, view, and update slides on-the-go.
Repurposing Content
Do you have a stellar blog article or infographic? Chop that bad boy up into slides and just like that, you've added another channel on which to serve your content.

What Are Some Insider Tips for Using SlideShare?
Put SlideShare into overdrive by following these best practices. These tips are guaranteed to help you get the very most out of the platform:
Use appropriate keywords in descriptions and titles

Coordinate your color palette with header and body fonts

Stick to 15-25 slides per presentation

Make sure your slide decks have an identifiable beginning, middle, and end
Craft content like you would for a blog post with a focus on being conversational

Ensure that your slides are easy to read with takeaways at the conclusion

Create a natural transition from your final takeaway to your CTA

Use quotes to add authority and interest

Include links to sources and related content

Follow analytics in SlideShare to see views, shares, and embeds

Integrate SlideShare with your CRM and use their pop-up form for lead generation
Ideally, each and every presentation you use should be optimized for sharing. Don't forget to connect projects to your LinkedIn profile for maximum visibility when you're deciding how to use SlideShare for your marketing efforts.

Has SlideShare helped you achieve your marketing goals? Let us know how you're waking this sleeping giant up in the comments section below.
Christina Clemens
Check out all of the latest marketing blogs written by Christina Clemens, Inturact's Client Success Manager.