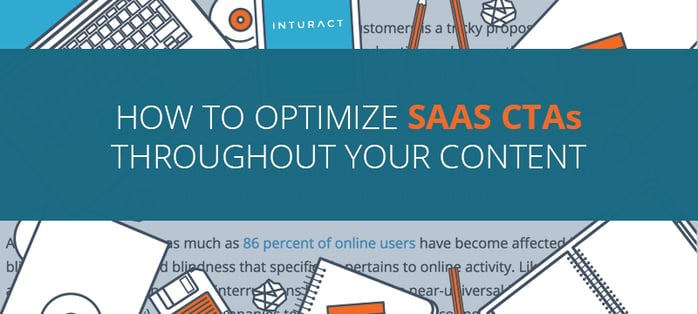 More than ever before, reaching out to prospective customers is a tricky proposition. Today's fast-paced environment means that people are bombarded with advertising wherever they go, and as a result, a phenomenon known as advertising blindness has become a growing concern throughout the business world.
Perhaps nowhere is this truer than the internet itself, wherein webpages have become increasingly inundated with specific graphics and text, formated in a certain way to attract visitors to click, and in turn, continue down the conversion funnel. This is your call-to-action (CTA).
According to one study, as much as 86 percent of online users have become affected by banner blindness, the type of ad blindness that specifically pertains to online activity. Likewise, complaints about the high frequency of ad interruptions have become a near-universal issue (84 percent of users, at least in one survey), leaving companies to devise fresh ways to connect with their target audience. However, despite mounting adversity, CTAs still remain a key tool for Software as a Service (SaaS) businesses to develop leads and use their content to drive positive action when they are done correctly.
So Many Choices
As the online space has continued to mature, the design and general approach to CTAs has become more and more complex (in fact, you can read more about CTA design here!). In today's marketplace, businesses have been forced to overcome banner blindness and other rising obstacles through innovation, leading to a wide variety of philosophies when it comes to what ingredients make a winning CTA.
Although which selection works best for your business will depend on a number of factors (and will be best revealed through vigorous testing), here are a few of the most common ways to integrate CTAs into your SaaS content.
Tips to Pump Up Your CTAs
Although there is no clear-cut rulebook for which CTAs will work best for your business goals, general wisdom within the online community has resulted in a number of guidelines that will help you design your CTA.
Answer the Call
CTAs may not be as cut and dry as they once were but that's a good thing! You can learn from the best practices of others to test out new and better techniques. CTAs are critical to SaaS marketing. They help visitors move through the site to product pages and can even push a lead from "free" to customer.
The right strategy and design can boost the chances that SaaS CTAs will connect with their intended audience. Don't waste this opportunity to communicate directly to your customers and submit your message in a clear, concise manner that maximizes your conversion rates.
If you are interested in learning more about how to optimize your content, while at the same time aligning your CTAs with your product marketing efforts, have a look at our eBook covering just that, "How to Align SaaS Content Marketing and Product Management."