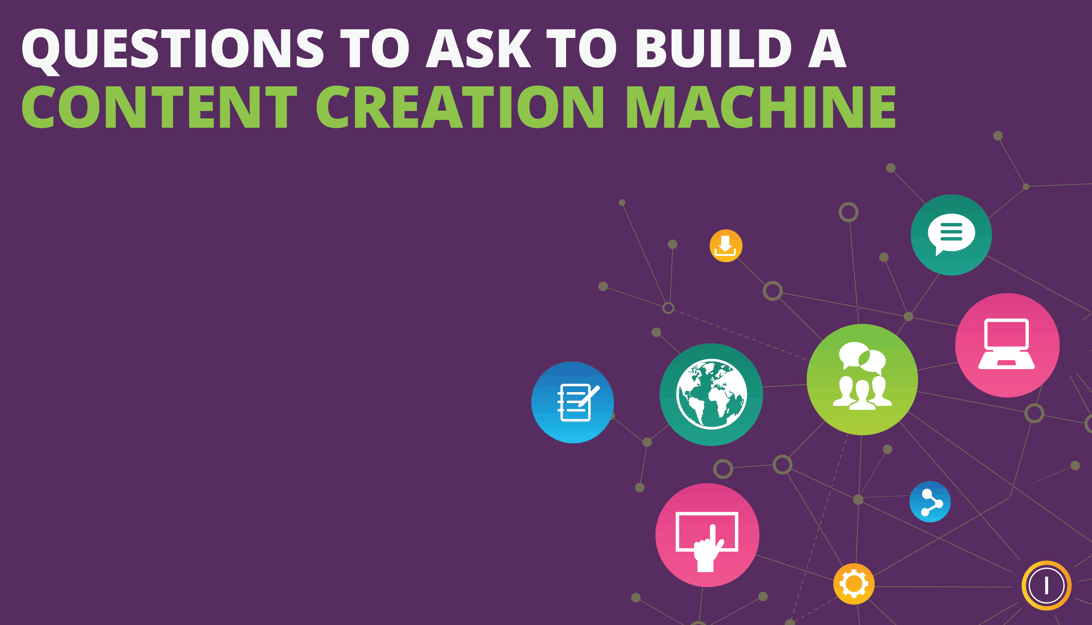 Have you ever wondered, "How can I (or my company) be better at generating content?" Well, you have to have an organized content strategy in place.
When you break down your content strategy, can you segment each role that is involved in the process? Think about it, how does your company create those blogs and marketing materials in an organized fashion that keeps the image and reputation of the business professional and credible?
We outlined 11 important questions to answer when creating great content. To keep things simple, we broke down our process into 4 roles and divided their tasks accordingly. You'll need an administrator, a writer, an editor, and an image designer to answer your content questions.
---
The administrator answers questions 1-3:
Question 1:

Who is in charge of building out the detailed outline of each content topic?
We crafted a content creation checklist spreadsheet to help you organize all of your content creation details into one place so you and your team can be on the same page as to who is doing what part of each task.
Need help identifying attractive topics to write about? Here are great places to search in your industry and a few examples of where we go to find topic ideas.
Keyword research -
Internet forums -
Popular industry news -
Sales/support FAQs -

Turn these commonly asked questions into content that you can share to position yourself as an industry leader.

Your personas' goals and challenges -

Focus on how your product helps your persona solve their pain points and achieve their goals.
Question 2:

What are we writing?
You need to know the format and length of the content you want. If it's a few sentences, you can probably tackle the tasks. However, if you're writing 600+ words, you may need the next marketing ninja to jump in.
Types of content formats can include:
Blog

eBook

Whitepaper

Case Study

Template

Checklist

Worksheet

Podcast

Press release



Question 3:

Who is it for? (How does it help my buyer persona?)
Know your personas and their journey very well for this part so you don't invest the time and effort to create an awesome eBook when the people you want to attract are interested in content that's more visual such as an infographic.
Important Question: Who is buyer persona and why are they always on some journey!?
This is arguably the most important question of this entire process. In short, the persona is whom you're creating content for (prospective customers) and their journey defines what solution they are seeking when they find your product. (Tweet This!)
---
Once you have the details, send it over to the writer:
Question 4:

Who's writing?
SEO, spelling/grammar, creativity, buyer personas, the industry, and punctuality; these are all details the writer must be a wizard at. Make sure you provide them with all of the content details they need and give them enough time to build a masterpiece. Give yourself enough time for each piece to flow down the pipeline.
---
With the final rough draft produced, it's time to refine. The editor answers questions 5 and 6:
Question 5:

Where are they turning in the final draft?
If this is you, don't feel bad to ask for revisions and feel free to make the edits yourself. At the end of the day, you're all on the same team and you wouldn't want someone to hold back on an opportunity for content to be better, right?
Assign hard deadlines and give constructive feedback.
Question 6:

Who's optimizing and proofreading?
Before publishing:
Make sure your keywords are in there a few times
Add some internal and external links where they flow
Check for proper headers and bullet point placement
And lead your reader to an awesome CTA they can't resist
Once your content passes the SEO test, it goes back to the administrator for final approval.
* Tip for the writers and editors- Download the Grammarly app on your Chrome browser. It has your back for those hard to catch misspelled words and hiccup grammar errors.
(If you're wondering "where do the visuals and graphics come in?" Ideally, while the written content is generating, the images are too.)
---
Content isn't complete without the visuals:
Question 8:

Who's making the graphics?
You'll need a stock photo account or consider taking your own pictures. Randomly taking images off the internet can land you into some trouble.
A great graphics designer knows about:
Design softwares
Typography
Layout and conversions optimization
Color theory
How to export your image to save
The final draft of the image should be sent to the administrator so the image can be approved and united with its content.
---
Circle back to the administrator to complete the remaining 3 questions:
Question 9:

Who's putting it all together?
If everything is good to go, you will have the following 3 components and your piece of content is ready to be scheduled / published.
A completed Content Creation Checklist
Proofread and optimized content
Blog image(s)
TRUE or FALSE: Once I schedule / publish my blog, I'm finished with that piece of content and I never ever have to administer it ever again even if the world is ending!
False. Our content creation mission is not over yet.
Question 10:

Who's promoting?
Who's sharing? As the administrator, be sure you and your team are available to share the heck out of your content. A good rule to follow is to spend as much time distributing your content as it took to create it. (Tweet This!)
"If a tree falls in a forest and no one's around, does it make a sound?" Yes, but no one will hear it. Share, share, share!
* Tip for Promoting: Are you referencing top influencers in your industry? Take the twitter handles of the writers of the links you have used and send a tweet with your link telling them you like their work and wanted to let them know you are featuring them. You might get some retweets out of it from high profile accounts.
Question 11:

What were the results?
This is the part that a lot of people forget. How did your content do? Did it do poorly, average, or did it blow the other pieces out of the water? Check for patterns so you can know what to do and what to avoid for the next piece.
Need some metrics to start your analysis? Consider some or all of these:
Number of visits
Leads generated
Social proof, share-ability
Inbound links
Content performance by author,

topic, or format

The results you get from Topsy
Once you have answered all these questions and refined your content process, repeat it for the next masterpiece.
---
You may have 1 person completing this entire process or you may have a team of 10 people. Depending on how many people and resources you have on your team will decipher just how your company goes about producing great content. These are questions we suggest that you ask yourself each and every time you create content to perform inbound marketing with style. You may want to combine the editor and the administrator role or possibly join the writer and editor into one role. If you want more tips on how to generate content, check out some content creation tools we recommend!
What's the next step? Click below to get started.
Samantha Cuellar
Check out all the latest marketing blog posts from Samantha Cuellar, Account Executive at Inturact.