(Re-)introducing Google Trends
Markets are always moving. Some market trends are easily recognized, such as growth or decline tied to a time of the year (consider, for example, the market trend for a costume retailer – October would certainly be a hot month). Having knowledge of predictable market trends can help inbound marketing agencies and marketers stay insulated from risk, but what about trends without obvious origins? A clever explanation about how an unusually cold winter (that affected buyer confidence in a related market) might actually be true, but it's only as true as your ability to persuade your client (and arguably, yourself). Having data is a good start.
Google Trends is a free resource from Google that provides keyword volume data measured over time. It's far from new – it's been available since 2005. While many more robust, feature-rich alternatives have appeared over the years, Google Trends boasts a few advantages.
Google Trends: Pros
It's free
It's Google data, from the source – no extrapolating middlemen
9+ years of data
Data can be exported in CSV format
Google Trends: Cons
Trend data does not use actual search volumes (Google's protection from scrapers)
Cannot view trends based on broad or phase match – only exact keywords (up to 5 overlaid)
Results limited to keywords with moderate volume
With these limitations in mind, I set out to see what I could find for a client who had questions about a decline in website visits. The pattern seemed uniform across all mediums and channels, so either the website had a malfunction or the market was moving. The traffic pattern seemed gradual, so I induced the latter and set out to prove my hypothesis.
Case Study: TPMS Market Volume
TPMS – "tire pressure monitoring systems" – is an automotive technology that's been growing quickly since federal regulations made it a required safety feature.
10 Years of TPMS Searches
Our search started with a "full" historical assessment of the market, expecting to see a strong growth trend. We used the three most searched keywords in the space to function as my market indicators.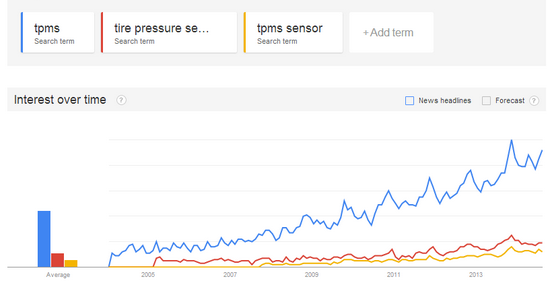 This data offered two important insights:
the market is indeed growing (about 20% a year).
traffic spikes consistently at certain times each year
The first insight's implication is that I should expect to see at least 20% growth in organic channels each year (and likewise, not deduce too much about SEO/SEM efforts unless I'm exceeding this mark). The second insight offered a high level assurance in an existing theory about a certain month's performance (TBD). We took a closer look at the most recent year.
1 year of data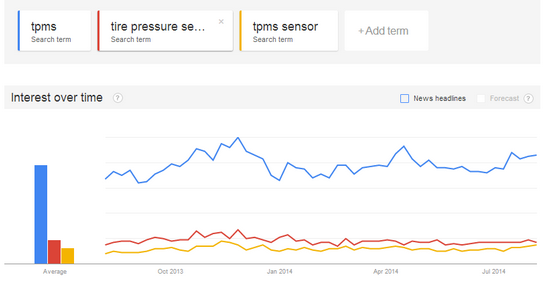 December and, to a lesser extent, April, were top performing periods in 2013/2014. This is consistent with the data we saw with the client's internal analytics, and it's also consistent to historical trends in the market, as shown with the 10-year plot. Having an explanation to this seasonal behavior is secondary—simply having data indicating that the trend exists is the actionable insight we needed to inform business decisions.
With confidence in Google Trends as an analytics tool, the last step was using its data to help diagnose the downtrend we were seeing. We exported the Google Trends data from the 2013 and 2014 plots (separately), then used Excel to visualize the market's movement year-over-year. Here's what we saw.
Exported & Plotted, Year-Over-Year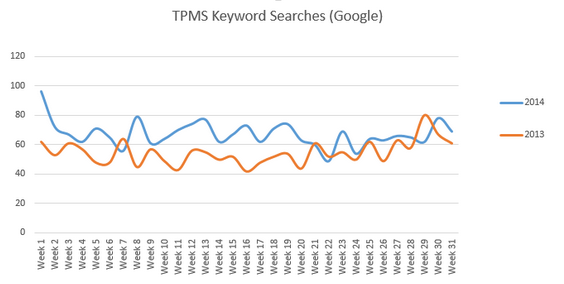 Around week 15, there's a distinct separation between 2014 and 2013, with 2014 outperforming 2013 (as we should expect based on the historical growth trend). But from week 16 onward, 2014 does not show the expected seasonal growth that's visible in 2013. A closer analysis using the raw data showed that 2014's traffic performed about 30% worse from week 15 onward (vs. 2013). Volume over that period drops around 5-10%, which aligned with our client's internal analytics data. This was the silver bullet we hoped to find -- evidence of a (likely temporary) market shift.
Conclusion
In the world of "growth hacking", the name of the game is resourcefulness and insight. We believe you're only as good as tools you have and how well you can use them. Google Trends is a simple tool with the power to influence your marketing gameplan at the highest levels. Add it to your toolkit. For more information See 35 Resources for Growth Hacking.
[Postscript/Corollary: Hashtags Trends]
Searching hashtag trends via social media platforms is a similar research methodology (and more commonly associated with the word "trends" lately), but be cautious with conclusions here. The growing popularity of hashtag usage could be the primary reason for an apparent spike in a tag's usage. Hashtags can more precisely forecast trends happening on small time scales (useful for opportunistic marketing and brand monitoring), but riskier for broader market diagnostics.
Interested in getting an analysis of your own website?