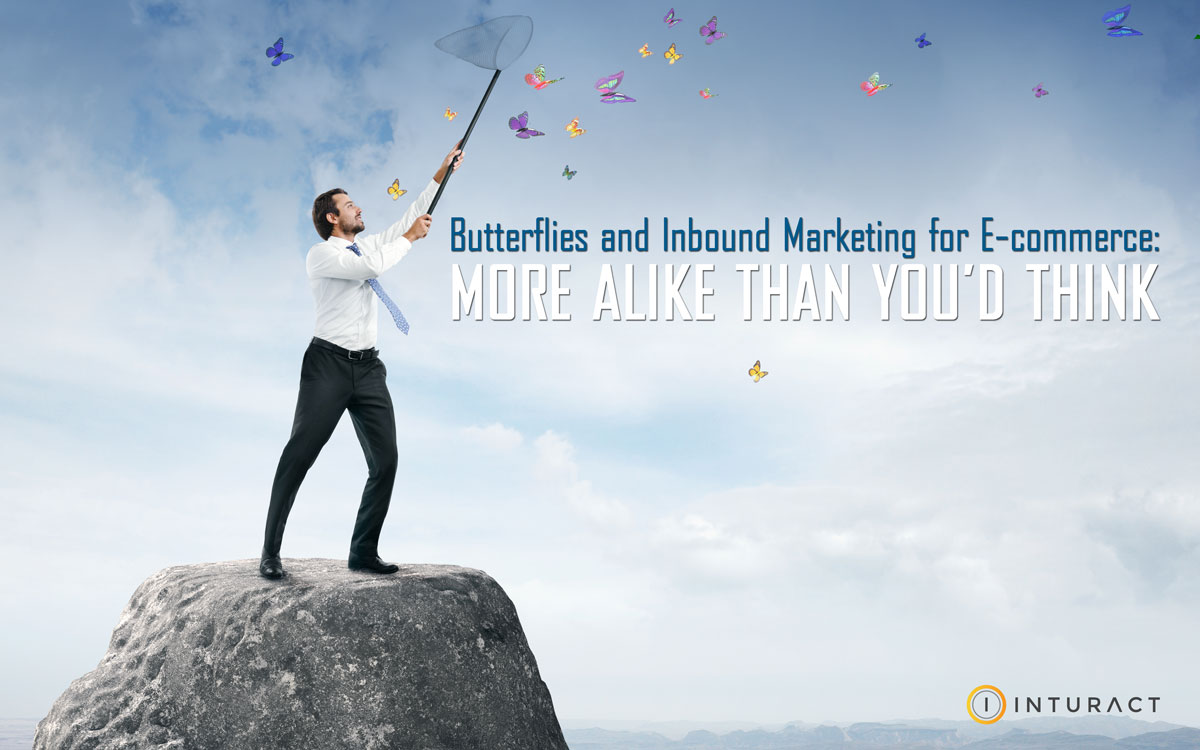 At its core, Inbound Marketing is using online content (blogs, podcasts, video, eBooks, emails, social media) to convert total strangers into visitors, leads, customers – and finally, promoters. Instead of reaching out (outbound marketing) to total strangers, the object of the game is to create quality content that brings them in. Think of it this way: You can chase butterflies with big, wide nets, or you can plant a butterfly garden and watch them flutter to you. Not only will you like the second way better – your butterflies will too.
Step 1: Turning Butterflies into Visitors
In this metaphor (we'll see how far we can stretch it), updated content is a flower. The more flowers you have, the more frequently butterflies will visit. But, to keep your butterflies coming back, you need more than quantity: You need high quality flowers in a neatly landscaped garden. And this is where my metaphor breaks down. Basically, your content needs to speak to your buyers' interests, give them value (educational, interest, giveaways), and include a sprinkling of keywords. They also need to come out at least twice a week – though posting 5 days a week will help your SERP rank rise faster.
Step 2: Turning Visitors into Leads
Here's a hard fact for most e-commerce business owners to swallow: Most visitors are not ready to buy. The vast majority of people looking on your website just aren't reaching for their wallets yet – which isn't to say you can't help them along.
For the visitors who are still in the research phase, give 'em what they want: Information, education, and – essentially – why you offer the best value for their dollar. You should address these issues on your home page, in your blog, and on your product pages.
Then, you can turn your visitors into leads by asking for their information in return for something of value. (Click to Tweet!)
Create an offer of value:
Whitepapers, free eBooks, or industry reports

Free trials of products

Webinars or other events

Limited time access to online utilities

Newsletter subscriptions
The last web store that caught my attention was an eye-glass frame website that offered a free trial with free shipping of three frames. They recognized a problem (how to tell if the glasses you see online fit your face), solved it, and are converting visitors to leads faster than you can say "four-eyes." But, they didn't stop there. They also offer stylists who look at a photo you submit and help you choose just the right glasses to fit your face. This business also uses a frequently-updated blog to cultivate its customer base, and the site itself is filled with content that addresses every stage of the purchase consideration funnel.
Step 3: Turning Leads Into Customers
Say your customer downloaded your free e-book, or requested your free trial – how do you keep them interested and nudge them in the direction of buying?
The email auto-responder: Sets of 3 emails that offer useful, relevant content. These keep the lines of communication open and start to build a relationship between you and your future customer.
Scoring your leads. Numerically rate your online leads with their sales-readiness, and for those you think are ready, have a customer service rep contact them.

Most importantly – if someone contacts you through email, phone, Facebook or Twitter – FOLLOW UP! (Click to Tweet) So many leads are lost simply because no one bothered to follow up.
And, finally, when visitors come to your site ready to buy, site structure becomes vitally important. You need clear calls to action on your landing pages and a simple, intuitive, convenient buying process. Creating this process may involve A/B testing.
Set up your SMART goals today to be on your way to convert your butterflies into visitors. Click below for your complimentary download.