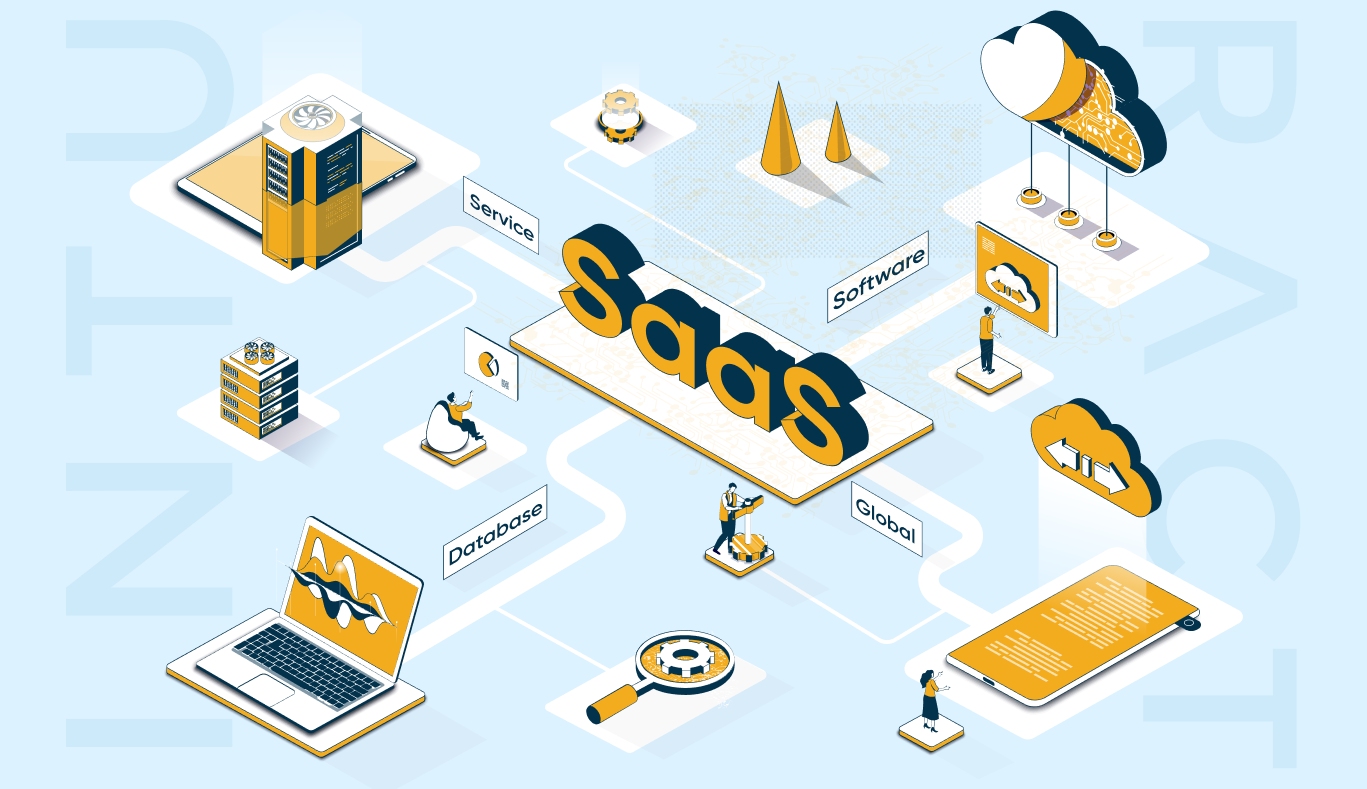 Start-ups…multi-million dollar funding…another company turned unicorn…
These are some of the buzzwords you might have heard in the news especially in the last 10 years.
All of these headlines have one thing in common, that is, a SaaS company.
It looks like SaaS is taking over the world!
So, what's SaaS and how is it different from the traditional companies we are familiar with?
Let's explore the SaaS business model and understand why it has become a favorite for entrepreneurs to grow.
What Is A SaaS Business?
SaaS stands for software as a service, which means selling cloud-based software as a service to the customers.
Let's decode this jargon.
Software is called service because it's not sold as a one-time transaction, instead offered as a service with a monthly charge.
Cloud is just a term for the internet where the companies have built their resources and allocate a part of these resources to the customers while onboarding them.
Customers who subscribe to the services, use this software through the web or mobile application. There is no requirement for downloading and installing software to the system.
These SaaS products can be aimed to serve other businesses, known as B2B (Business to Business) services like FreshBooks, Mailchimp whose features are more relevant to an organization's growth.
Or they can directly serve the customers known as B2C (Business to Customer) services like Netflix or Facebook.
Even if you're not tech-savvy, you're still using a SaaS-based product, directly or indirectly. SaaS businesses make money online without any hassles resulting in success for entrepreneurs."
How many of these SaaS businesses look familiar to you?
What Are The Pros And Cons Of The SaaS Business Model?
Here are some of the advantages of the SaaS model that makes it lucrative for business founders.
Scalability: Growing with the SaaS structure is painless, for the business owners as well as their customers. Since the resources are cloud-based, adding new users from any geographic location is easier. Also, the high volume of customer data can be processed in real-time and regular maintenance can be scheduled with significantly low downtime leading to a better customer experience.
2. Recurring Revenue: While the traditional business methods rely on one-time transactions for selling the software licenses, Saas businesses provide monthly or annual subscriptions.

These subscriptions keep the revenue flowing for the businesses and make growth easier.

The customers are also not stuck with obsolete purchases. They can renew or upgrade their subscription depending on their updated requirements.

Saas businesses generally also use an invoice-making tool to create and send professional payment documents and PDF invoices.
Easier Pivoting And Modification
The major advantage of the SaaS business is that it isn't limiting. The product can be updated or transformed smoothly without starting from scratch.
The SaaS industry is highly receptive to the customer's needs and expectations, therefore, regularly updating the product isn't a hassle.
It's also much less expensive than scheduling an on-site software update with the customers.
A SaaS product is developed to offer something to all types of clients, whether it's an emerging business, an already established industry, or a niche market.
With tiered pricing, you can engage with clients of varying ticket sizes.
A key aspect of the SaaS industry is 'customer success' which aims at engaging and guiding the customer to make the most of the purchased services.
This ensures customer stickiness and loyalty to the product. Since the SaaS product and plans are flexible, the customer can anytime upgrade or change their requirements without canceling their subscription.
This leads to a community of loyal customers who renew the subscription each month or year.
Though the SaaS business offers multiple advantages, there are a few limitations as well.
Realizing the benefits of the SaaS model, a lot of companies have pivoted to it making it a highly competitive space.
For every customer requirement, there are ten SaaS companies offering the solution, each at a more competitive price. So, navigating through the industry can be a little tricky at first but if you have accurately identified the customer's pain points and are offering a viable solution, then there's no stopping you.
Customer Retention And Churn
The high competition demands an aggressive strategy for customer retention and reducing churn.
Additional trained resources need to be set up that can ensure customer satisfaction and predict churn to take necessary action at the right time.
The SaaS business is highly dependent on cash flow. The investments are needed to set up and maintain the team, update the resources, and enhance the services.
This means that your product should be good enough to bring recurring revenue and attract investors who see value in your business.
Stages Of A SaaS Business
A SaaS business goes through phases of transformation depending on the progress they've made. Keep track of your business growth with a business plan template whose capabilities grow with your company.
Pre-startup
This is the stage where the business is just an idea and you're still brainstorming how to set up the business structure from scratch.
The product might be in just the developmental phase and you may not have any clients yet. But now's a good time to
Research and explore the industry you're planning to enter
Discuss what's already in the market and how you can differ your product from the rest
Strategies over the business model and seek help from the mentors
Secure funds for your business to get started, either through friends or seed investors


Start-up
Once you have the skeleton of your business plan ready, you can get started with implementing your strategies.
This is the stage where you can
Set up a core team to manage the product and generate leads
Create proposals to approach the clients
Get customer feedback to refine your product
Keep yourself updated with the ongoing industry news
Don't be afraid to pivot or modify your roadmap if necessary. The advantage of a start-up is that you have lesser risks and can mold your goal as the situation demands.
This is the stage where you know that your product is working and now the work has to be done to make the system sustainable.
The key responsibilities at this stage are
Optimize customer acquisition and lifecycle
Retain and engage customers
Implement necessary changes to the product
Scaling your team
Market your product
Avoid the mistake of bad hiring at this stage. A growing company needs a team that is flexible and is aligned with the company goal.
Also, don't just focus on one type of client. Chase big and small clients to strike a balance between the number and the revenue.
If you have made it through the previous three stages, then now is the time to scale the ongoing processes to go big.
This phase means you have a stable product with an ample number of customers. So, what's next?
Take a moment and think about your end game here, whether it's to continue with your business or find an exit.
Depending on that you can
Go global. Expand to other countries
Plan for IPO listing
Add new products or services
Being a mature business doesn't mean you relax and go easy. That can jeopardize your position. Keep yourself updated with the latest market trends and think of innovating your product to remain in line with the client's expectations.
Funders and Founders
SaaS Pricing Models
Nothing impacts your business more than the pricing model you choose to sell your services.
The choice has to be made to strike a balance between revenue and growth.
To add more customers to your portfolio, you can't compromise on the revenue as that can impact the value of your company.
Here are some of the most popular and successful pricing models adopted by SaaS businesses across the world.
This is the simplest model where the complete product comes with a single price for all the customers. The payment term can be annual or monthly.
Though this is simple and easier to sell, pitching the same price to small-scale businesses and an enterprise can discourage extracting the maximum value.
Example: Basecamp is a project management platform that provides a flat rate to all its consumers.
The free version or limited period trials let the customers try out the value of the services to make an informed decision.
This model allows the flexibility to the customers to pay for what they're using.
Correlating the price with the usage benefits the business in gaining loyal customers.
It caters to businesses of all sizes and during the sales the customers can be swayed to a better plan depending on their needs.
Example: Netflix offers multiple subscription plans depending on the requirements.
User-Based Pricing
This model is just like a flat price model but the varying factor here is the number of users.
The customer decides how many users they want and scales up with time.
This is the most popular SaaS pricing model which ensures your growth with the product adoption by customers.
Example: Slack is a collaboration tool that offers feature-based plans. The enterprise customers are prompted to contact the sales team instead of giving a direct price.
This is to extract maximum value depending on the client brand and their custom requirements.
Revenue Streams For SaaS
SaaS is profitable because it collaborates with multiple streams of revenue for a business.
It's important to strategize the ones that can boost your growth and maximize your revenue.
This is the base price your consumers pay when they're onboarded. This can be an annual or monthly revenue depending on the pricing model you have implemented.
In order to optimize the inflow of this revenue, reduce your new customer acquisition cost and increase the sales per month.
Once a customer is onboarded, you can't rely on them just renewing their services in the upcoming month or year. If the users aren't engaged and don't see the value in your product, you can bid adieu to the recurring revenue.
Train the customer and keep them informed about the additional features of your product which they can upgrade to. Offer package deals to existing clients to make the deal attractive.
The reason why customers prefer SaaS is that it allows customization to fit their needs through easy integrations.
But this doesn't mean that you have to do it for free. Build your cross-platform integration plans and present them as a seamless solution to the customer at an additional cost. You can also solve the problem of a high ticket size client by developing a custom feature for them.
This increases the client dependency on your services, making it difficult for them to switch to a competitor and boosts customer loyalty as well.
Data is power. Not just for you but for your customers as well.
Businesses struggle to get the right analytics to track and evaluate the performance of their team.
Give them custom reports that can save time and effort at an additional cost.
SaaS is not just the software but it's the accompanying services as well. Your customers expect detailed training and constant assistance to navigate through your product but hiring a dedicated support team is expensive.
You can charge the customers for these services.
You can ask the client the extent of the support they'll need through which channel and this cost can be billed to the customer as a one-time cost or a recurring charge added to their subscription.
For example, you can provide basic email support in the subscription plan but charge additionally for the in-person training/setup or voice and chat support.
Charges For Extra Resources
There might be some clients who have high usage and need extra cloud space for their data or processes.
Now, it won't be profitable for you to meet the demand for high usage at the same plan price so you can allocate these additional resources to them with a cost.
Metrics That Matters For Your SaaS Business
These are some of the essential metrics a SaaS business uses to track its performance and improve its operations further.
Customer Acquisition Cost (CAC)
This is the cost of acquiring new customers. The amount is spent on generating leads, refining the genuine prospects, building their product awareness, and getting them on demo calls for a pitch.
The aim should be to reduce this cost per customer and derive the maximum returns from it.


Customer Lifetime Value (CLTV)
Whenever a deal is successfully closed, you can estimate the total returns that client can give you. This is calculated by multiplying the value it provides with the average years they will be doing business with you.
Though this is an estimate, this combined with the CAC can demonstrate whether your sales strategies are profitable or not.
ProfitWell
Monthly Recurring Revenue (MRR)
MRR is the essence of any SaaS business. A sustainable business means that it has recurring revenue coming in every month and year.
You can project the revenue you'll make by calculating the monthly revenue given by each client.
This MRR can be increased by pursuing customers to upgrade their plan or buy additional features with their plan.
Churn Rate
Churn is dreaded but unfortunately, it's unavoidable. It means losing a customer and the revenue they used to bring in.
A customer can churn due to many reasons, they found a better product with better pricing or the reason could be an internal restructuring.
There is customer churn and revenue churn. In this case, you may not be able to stop the customer from leaving but the revenue churn can be avoided by compensating for it through a new customer or upgrading an existing account.
If your churn rate is higher than the average 5-10%, then gather the data on what's going wrong and try to retain customers by eliminating those problems.
But how to know what's not working for the customers?
Simply, ask them.
Collect regular feedback from the customers. NPS is a great measuring tool that showcases how willing your customers are to promote your services to others.
TeamSupport
What Is The Future Of SaaS?
So, you know SaaS is the new cool right now but what about the next 15 years?
Where is SaaS going?
From smartphones to virtual reality, we have seen technology evolving so much in the past decade.
People have accepted new changes in their life and businesses have found solutions to many of their use cases.
This has been possible because of the agile and cost-effective cloud system. And that's why people are expecting more to further innovate their life.
Fortunately, it looks like they won't be disappointed.
With the popularity of artificial intelligence, machine learning, and data automation, more businesses are looking forward to integrating these into their SaaS platform. The aim is to use these developing technologies to make the data more manageable, accurate, and insightful.
Safe to say, with a data-driven approach the SaaS is going to flourish in the upcoming times and is here to stay.
Author bio:
Trevor is a SaaS growth consultant and managing partner of Ring4. He leads the product development and drives innovation for building the best light-weight business phone solution in the cloud.