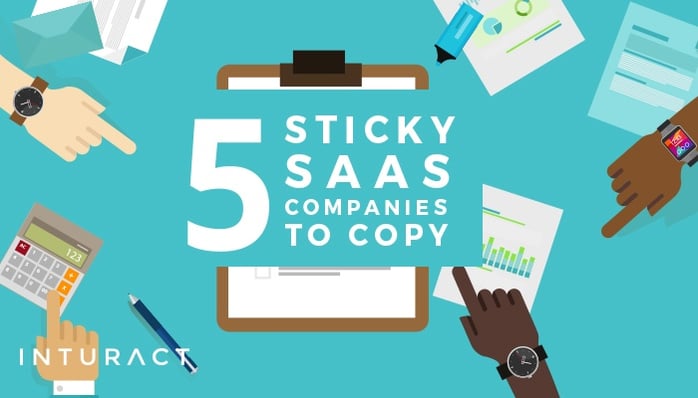 Stickiness – you know it's not just what your toddler leaves behind…well…everywhere. You even know that, at least when it comes to websites (and not your kitchen counter), it's a good thing. Today, we're going to talk about a different kind of sticky. This kind of sticky grabs hold, and you don't want it to let go.
Sticky products. They're habit-forming, engaging, and make you want to log back in and use them again and again. Facebook is a great example and an obvious contender for a Sticky award: All of your friends are on there, all the time, giving you a 24-hour feed filled with reasons to check back in. You might stay away for a day, or a week, if you really try. But c'mon – you know you'll always come back.
SaaS companies are starting to figure out how to utilize those same sticky concepts. We've identified three criteria that the following top SaaS products tend to have in common.

Criteria for a sticky SaaS product:
Habit-forming

Contains an element that makes you want to log back in often

Hard to leave, because something of value is stored there

HubSpot is the master of sticky. They lure you in with incredibly valuable inbound marketing training – for free – and then they show you a product that makes it so, crazily simple. If you've fought with WordPress before, you'll appreciate the user-friendly integrations HubSpot's platform offers. It includes a complete inbound marketing platform (yes, with social media, and landing page templates, and email campaign templates and much more), sales software, and ways to automate just about everything. If you run into trouble, you have your very own HubSpot ambassador to give you tech support (and moral support) as-needed.

They're sticky because they give you every reason to stay. But they're also hard to leave. After all, if you build your site on HubSpot (HubSpot COS) and your entire marketing efforts run off of their platform… it's not a simple process to go back to WordPress or another competitor.

In a nutshell, Buffer is a social media scheduling tool. All you have to do is make your post, add a link to awesome content, and it will automatically schedule that post for you at the most strategic time and date. It's like an automatic watering can for your garden: keep it topped off with water, and watch your flowers grow.
Signing up is free and they offer a 30-day free trial (no credit card required) – they're that sure you'll love it. Why are they so sticky? Other than making effective social media management easy, they also do one more thing: They prove their worth.
Each post comes with more analytics than you would normally be able to access if you were to directly post on Twitter or Facebook. You can see how well your posts perform, and how your social media presence evolves over time.

"There is nothing like the MozRank and Domain Authority metrics on the market" says one happy MozPro client, hinting at what makes MozPro so darn sticky. If you literally cannot find another tool out there that does what MozPro does, it's unlikely that you'll leave! Most SEOs use stacks of products to do their jobs, but MozPro's toolset offers the necessary numbers in one place, and deciphers the data to deliver "actionable insights."
That alone may not be enough for you to keep logging back in (unless you're a professional search engine optimizer). Enter the MozBar – an add-on to your regular web browser that lets you check out the SEO metrics of any website, as you're surfing the internet. You can check out your competition, see how difficult it is to rank for a certain keyword, and peek behind the curtain of websites you admire to see how they do what they do. It's downright addictive.

Salesforce isn't a company, it's a community. It's a movement. Even if you've never used a Salesforce product, chances are you've at least heard of Dreamforce, their annual conference that promises to deliver insights into the future of sales. Salesforce's product is all about cloud-based customer relationship management: Automation and tools for sales, customer service, customer engagement, and analytics. Then they partner with other complimentary products that do things like contract management and inbound marketing (yes, there's a HubSpot integration), in an attempt to be a one-stop shop for everything a business needs to make sales happen. They even offer a tool that lets you build your own mobile apps for your customers.
They also don't make it easy to leave. Salesforce likes to sign customers up to annual, or longer, commitments. And, when a customer does want to leave, it involves a lengthy process of migrating data and re-training staff that could take months.

OneLogin provides secure access to all apps, and devices with a secure password management solution, allowing you to auto-login to all of your accounts. With a single OneLogin account, employees can gain login access to every account they need on the internet with a click of a button. Businesses can securely control access to their resources; users don't have to come up with eight variations on their pets' names for multiple passwords. However, if they did they wouldn't have to remember them at least.
Those are OneLogin's core benefits, but also attached to that is the brand's promise of identity security. As they say, "You need a system that can secure employee, external partner and customer access to enterprise information. It has to be simple, scalable and easy to use."
OneLogin presents itself not as a "nice to have" but as a "need to have," which makes it automatically sticky. By its very nature, it requires you to log in any time you want to access enterprise information or accounts, as well as personal accounts (which is very often). Additionally, given it's deep integration into your daily company operations it's also very hard to transition to a competitor or alternative solution.
These sticky companies help customers choose to work with them by offering a product that solves an important pain point over and over again.

This could be ease of use over any other solution, or making you feel the itch to constantly log back in or could even be storing important data that makes migrating away difficult. But the key element, the magic ingredient, that makes these SaaS products truly sticky is this: They're awfully addicting to use.
How sticky is your SaaS product?
To keep up with other sticky SaaS products and sticky SaaS content, check out SaaS.Community. Where SaaS people hang out and share their stories, their strategies and other great SaaS marketing content.
FAQ's
1. What makes a successful SaaS product?
A successful SaaS product has the following three qualities:
It is habit-forming
Contains an element that makes you want to log back in often
Hard to leave, because something of value is stored there.
2. Can you give some examples of sticky and successful SaaS products?
The top SaaS products that can be called sticky and successful are:
HubSpot
Buffer
MozPro
Salesforce
OneLogin.
MozPro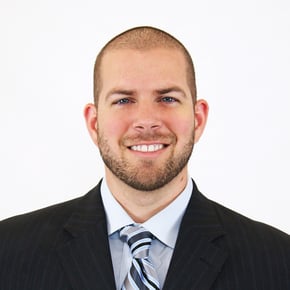 Trevor Hatfield
Trevor Hatfield is the founder of Inturact and strives to create highly tuned marketing machines for their clients websites, products, and apps. While also constantly keeping up with technology and building a team of multifaceted and dedicated professionals.