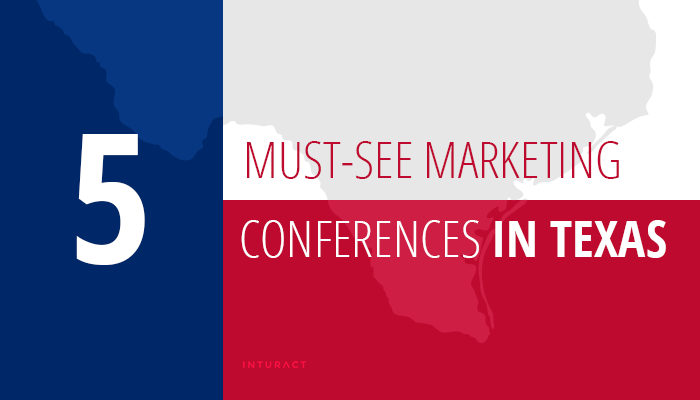 There are a lot of things that probably come to your mind when you think of Texas -- cowboys, horse ranches, giant hunks of meat, and maybe even tumbleweeds. But though Texas has a lot more to offer beyond that list, tech leadership would probably not make the top of most people's guess list.
From the underground "weirdness" of Austin, to the energy corridor of Houston, and up to the booming startup community in Dallas, however -- Texas has a lot to add to technology and digital marketing conversation! In fact, some of the greatest conferences in the country and even the world happen right here in America's biggest backyard.
Here are five marketing conferences in Texas which you can't afford to miss this year.
Marketing Conferences in Texas
1. SXSW
I would be remiss not to mention this mecca of a conference in a list about marketing events in Texas. People come from far and wide in droves to celebrate and learn about technology, marketing, education, and even music at SXSW.
The conference is divided into sections and goes on for over a week while 10s of thousands of people flood the capital city of Austin. The overwhelming competition for speakers and strict application standards assure one of the best lineups of the year. And whether you are attending to learn or to have fun, you are always sure to walk away with more than you came with.
SXSW is scheduled for March 10 - 19, 2017. // Austin, Texas
2. Interactive Strategies
The Houston Interactive Marketing Association (H/IMA) prides itself on delivering "300" level content. While many local organizations attempt to cater to a wider audience with more introductory content, H/IMA has found a niche in focusing on advanced material.
The annual conference, Interactive Strategies (IS), attracts some of the best and brightest speakers from around the country for the chance to enter into intelligent conversations and debates about interactive marketing best practices for the coming year.
IS2016 is scheduled for October 20, 2016. // Houston, Texas
3. Pubcon
Pubcon is most well-known for its largest annual event each year in Las Vegas but the conference also offers a couple of smaller, regional events throughout the year. The local events pull from the Las Vegas speakers to bring insights and ideas from the main event to those who may have not been able to make it.
Pubcon has chosen to make Austin its Texas home. The edgy, innovation-driven energy of Texas' capital city is the perfect backdrop for this annual marketing conference. It's another great chance to get to see some of the best national speakers here in Texas within a one day event.
Pubcon Austin is not yet scheduled for 2017 but is usually in May. // Austin, Texas
4. State of Search (SOS)
State of Search has rapidly grown as an industry favorite for speakers and attendees alike. This two-day event has an emphasis on search engine optimization but has also branched into content marketing and social media.
Organized into three tracks throughout both days, and packed with multiple keynote power-houses, SOS promises to deliver event quality at the national scale with a little bit of something for everyone.
State of Search is scheduled for November 14-15, 2016. // Dallas, Texas
5. ConversionXL Live
ConversionXL has gained an enormous following and reputation for quality content and educational material for conversion marketing in recent years. The sheer volume and quality of the posts that they put out each month at times seems impossible.
They take that commitment to excellence to the next level with their conference. A more immersive event than the others on this list, ConversionXL often plans a retreat-type conference with all attendees staying together on site.
ConversionXL live is planned for April 5-7, 2017. // San Antonio, Texas
Learn in Your Backyard
If you are a Texas resident, you don't have to plan an expensive trip to San Francisco or New York to learn from the best and brightest in our industry. As you can see, there are a ton of events year round that are attracting these speakers right to our backyard.
For those of you outside of Texas, these events offer you an opportunity to explore the exciting diversity that Texas has to offer while writing it off as a business expense - win, win!
So get up, get out to one, or two, or five of the marketing conferences in Texas, and get your learn on!