Hellopeter Case Study
77% Increase In Onboarded Users In 7 Months
The Challenge
Unsure how to guide & activate users to upgrade
Leadership had a hunch that their users, based in South Africa, were resistant to trusting an online review platform. There was no tracking in place to understand how to better convert new customers nor a process in place to guide users to understand the value of Hellopeter. Users had no clear path to upgrade. As a result, Hellopeter was unable to make data-backed decisions about how to optimize growth.
Trevor is an absolute pleasure to work with! He is so full of knowledge when it comes to helping decide what is best for our companies digital marketing needs. In addition to that, he is always quick to respond, offers additional support and shares all of his incredible resources with us! Highly recommend lnturact for any SaaS company looking to grow their presence.
Action Summary
The Key Actions Required for the Move
Establish Strategy
We built the foundation for the user onboarding strategy by first identifying the ideal customers and their key pain points, frustrations and motivations. What were the 5-7 steps needed to get someone to that 'aha' moment where they realize the value of the promise. We identified the actions to track inside the app, as well as implementing the tools to measure and improve the onboarding funnel.
Build Onboarding Process
We developed and setup the emails, in-app messages and in-app walkthroughs necessary to make customers reach that 'aha' moment. Additionally, we created an onboarding analytics audit and implemented tracking. From there we set up dashboards to visualize the funnel to show what parts of the onboarding were working, and which parts needed product or process improvements.
Optimization
A circular process we ran until the user onboarding funnel reached our specified goals, such as: Higher conversions, Decrease churn, Increased revenue and profits, Lowered CAC, Increased LTV and Increased ARPU.
The Results
Growth Breakdown After 7 Months
79
%
New Onboarded Users Conversion Rate Increase
50
%
Free Sign up to paid Conversion Rate Increase
47
%
Engagement rate increase (replied to 2nd review)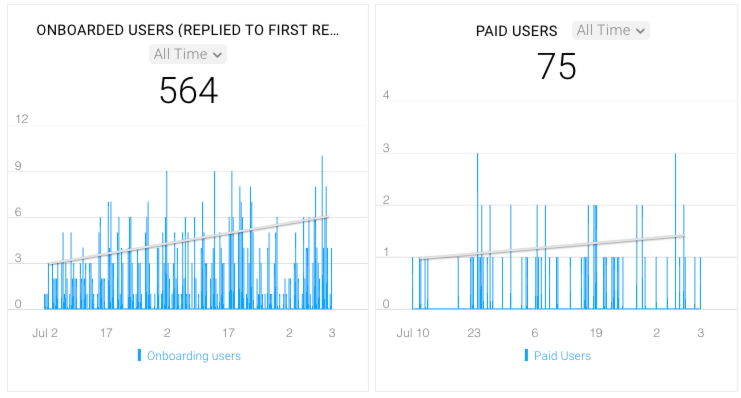 After only 7 months of working with Inturact, Hellopeter implemented a new user onboarding process resulting in a 79% increase in successful activation with a steady growth in paid upgrades to premium subscriptions.