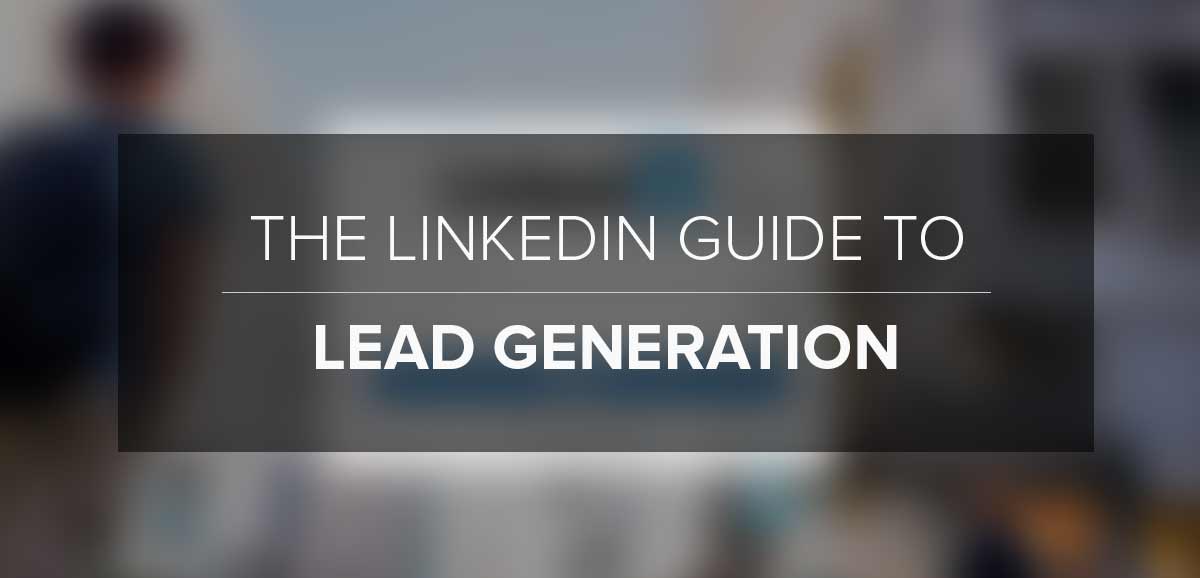 SaaS marketers constantly search for new clients who can benefit from their services. Their pursuit begins with lead generation, which is understandable. Without leads, there's no sale, no revenue, no nothing.
Here's the kicker – whether you sell on-premise document management or cloud services – you have to generate leads. So, the obvious question is: How do you get leads?
Turns out, LinkedIn is a great platform not just for connecting professionally, but also for lead generation.
But as with most lead-generation tools, you don't get the full scoop with a basic account. At the base level, LinkedIn has substantial networking potential, but it's the Premium account that provides the rich opportunity to generate leads, gain influence and win new business.

Features of LinkedIn Premium
When upgrading to LinkedIn Premium, 'Business' and 'Sales' membership plans offer a number of exclusive features that can add a lot to a SaaS marketing campaign, from increasing awareness and engagement, to identifying and winning new business:
InMail
Free profiles offer limited features when it comes to reaching out to prospects outside your LinkedIn network. You need a mutual contact to introduce you to a prospect before you can initiate contact, but with LinkedIn Premium, you can reach out to anyone with a message using the InMail feature.
Premium members receive InMail credits that can be used for sending messages. LinkedIn guarantees a response, and returns the InMail credit if the recipient doesn't respond in 7-14 days. The number of InMail credits you receive depends on the membership plan.
Saved Profiles
Ever thought of using LinkedIn as a CRM tool? When you upgrade to a Premium account, and have a list of leads you want to nurture, the Saved Profiles feature enables you to save up to 5 profiles, as well as write notes and set reminders.
So you can pull up a profile along with these details when speaking to a lead on the phone. This should give you an insight on the makeup of a lead, including their interests and whether you do or don't have mutual contacts.
Advanced Search & Search Alerts
A Premium account on LinkedIn gives you advanced features over basic search. The Premium search function includes filters such as group search, company size, and seniority level, making it easier to search for the right prospects, quickly.
Premium members will see a gold logo beside the search function indicating access to all the filters. There's also the option to save search results and receive weekly or monthly alerts for those results. The number of additional features you can access depends on your membership level.
See Who's Viewed Your Profile & Full Profile View
On LinkedIn, those who view your profile are likely to be competitors or leads, so when you know who they are, you can reach out to contacts who are leads. Both Business and Sales Premium memberships allow you to see who has viewed your profile, and their referral source.
Then you can also see full profiles of your connections with a Premium account, including 3rd-degree connections and group members. LinkedIn Premium gives you 35x greater access to profile information than a free account does.
Lead recommendations
A Premium Sales membership gives you access to a number of features focused on lead generation. For example, the Leads Recommendations feature enables the discovery of prospects in line with your niche.
There's also the Sales Navigator feature that sends new leads to your inbox. Premium members can also use Lead Builder tool to create customizable lead lists, and Account Pages can serve new lead recommendations.
Generating leads with LinkedIn Premium
Here's how you use some the above-mentioned features of LinkedIn Premium for lead generation:
Create a targeted list of contacts
Using fields such as location, school, past company, keywords, interested in, common groups, when joined and company size, you can narrow down your leads to create a highly targeted list.
For example, if you are a cloud storage service provider aiming to sell services to small SaaS companies who provide email marketing services, you would type 'email marketing' in the keyword field, select Location Anywhere, select managers/owner/partner from seniority level, and 1-10 and 11-50 in the company size.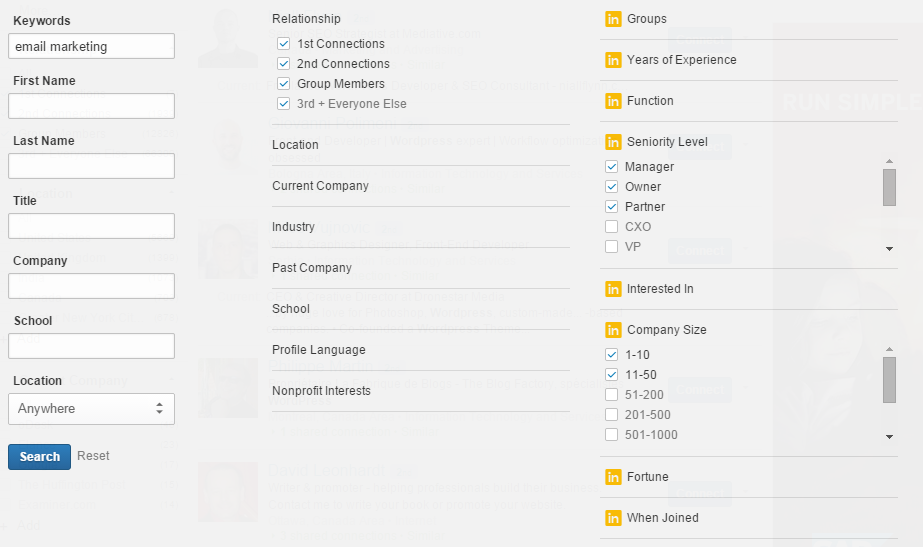 From search listings, you can create a list of leads and start pitching. The Full Profile View will give you the ability to refine the list, such as avoiding contacts from businesses you've had bad experiences with in the past.
2. Set alerts to discover new prospects
Advanced Search has an option to save searches based on keywords you search for. The feature sends you weekly or monthly alerts of new prospects joining the LinkedIn network based on the keywords.

Profiles of new members will be displayed under the Saved Search tab. You can save 7 searches and see 500 additional profiles in search listings to identify new leads and include them in your CRM list.
3. Send customized messages via InMail
InMail messages have a higher open rate than email messages. Think of a message as a highly targeted sales pitch; study a lead carefully before sending out a message to avoid cold calling.
Here's an example of a personalized message if you are selling cloud storage services: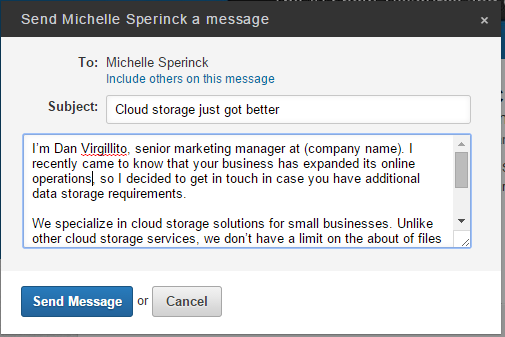 A well-crafted message sent out to the right prospect can earn you more success than cold calling.
Your next steps
By now, you should have an actionable guide for generating leads with LinkedIn premium. Test each of the features that LinkedIn Premium offers until you find the combination that brings you the most leads. You can learn more about LinkedIn Premium here.
If you need help with lead generation, read more on how we can help with your overall strategy and schedule a call that works for you.