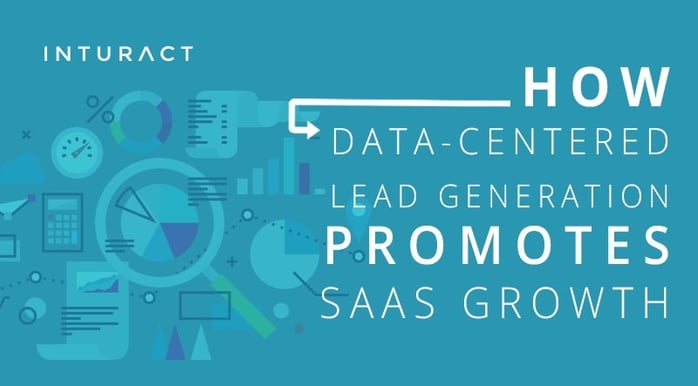 Data is changing the world.
And inbound marketing is benefiting from it.
Lead generation is dominated by the use and management of data. Companies can now target the right prospect at the right time with the right offer. However, CSO Insights found that "68% of companies report struggling with lead generation."
It's time for SaaS businesses to dump their flawed techniques. No more winging it.
The Strategy
Some SaaS executives push their marketing and sales teams to acquire as many leads as possible. Without thinking about quality, these businesses convert only a few leads and then experience high churn rates.
The key is to favor quality over quantity. Take note from Dave Rigotti, head of pipeline marketing at Bizible:
"If you were to stack rank all lead generation activities we do every month, live chat would be at the bottom in terms of quantity of leads generated. Not to mention it takes significant amount of energy to operate. However, it's near the top in terms of revenue."
Even though Bizible's live chat produces fewer leads, it contributes 25 percent to the company's new monthly revenue. Now, that's how SaaS growth works!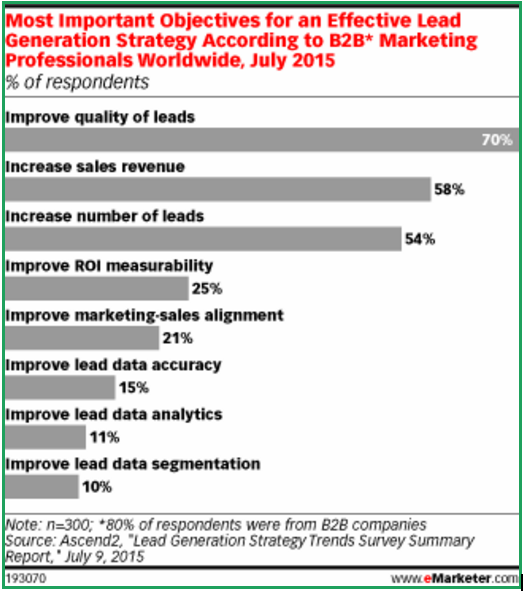 In the chart above from eMarketer, you'll notice that more B2B marketing professionals recognize the importance of improving the quality of leads.
However, most are not focused on lead data management and analysis, which may hinder them from earning the right leads.
Take Action
Based on the 2015 State Of Data-Driven Marketing Survey Report, "64% of marketers indicated that their data-driven marketing budgets will increase over the coming 12 months, with 34% expecting a rise in spending of more than 10%."
1. Find The Right Leads
Start by creating buyer personas that will help your team generate more qualified leads. The best buyer personas are tailored. Just saying you will market to small businesses isn't enough.
For example, every small businesses has different needs. A solopreneur earning less than $50,000 a year may not need your accounting software that's designed for enterprises grossing $350,000 annually.
If you try to market to both, your message will fall on deaf ears.
Consider the motivations of your typical buyer. What problems do they need solved? Where do they live? How do they make decisions? And what's the best way to contact them?
Be sure to include professional and personal motivations, needs, and concerns. This may seem counter-intuitive for B2B personas but finding out who your target customers are on a personal level will help you market to them in a more human-like, effective manner.
To gain these insights, interview and research your current customers. Examine social profiles from your analytics software. Ask customer-facing employees about their interactions with buyers. Reading customers' negative reviews also can aid your team in eliminating certain target audiences. All these data points will help you understand prospective clients' goals and concerns.
2. Engage The Right Leads
Once identified, it's your job to nurture those leads. Your priority is to develop a message that will resonate with the client. Why should the prospect care? How are you different than competitors? What solutions are you really offering? These are all reasonable questions from a potential buyer, and they should be strategically answered.
Create specific tracks based on your buyer persona. Data can assist you with the segmentation process. Below are a few ways to divide up your prospects as identified by LeadForMix.
The purpose of segmentation is to deliver the right message to certain groups. You don't want customers in California receiving messages about special deals in Florida. And you don't want an existing customer getting first-time user promotions.
Engagement comes in many different shapes and forms. It ranges from remarkable content to attentive customer service. When developing content, think outside the box. Just publishing a 2,000-word blog post won't work.
Mix up how you present your content. Consider creating slideshare presentations, hosting a webinar, or producing a short ebook on a particular subject.
Sales intelligence platform Datanyze engages its audience with webinars. The topics offer strategies to help their clients increase sales. Once the webinar is complete, other visitors can access the video by filling out a simple lead generation form (see their example below).
3. Keep The Right Leads
Lead care may be the most important aspect of any lead-oriented effort. The quality of your leads won't matter if they walk away.
Accept customer success as a business model. If your customers don't succeed with your product, then your business won't succeed in the market.
In other words, don't make client success a department in your company. Instead, every person needs to be a part of the client's experience. Moreover, establish metrics to monitor customer health—strategic and operational.
"On a daily basis we monitor the health of every account and have workflows in place to address scenarios that could lead to unhappy customers," writes Ujjal Kohli, CEO of Preact.
Also, understand that it's perfectly fine for a few leads to leave after a free trial period. It may be an indication that the customer wasn't a good fit for your software. But be sure to follow up with the client to gain insight on why they decided not to continue with your service. The feedback will be useful when adjusting your buyer persona.
For leads that convert to customers, aim to provide the best customer service experience. Go beyond the traditional help with your product. Offer a gesture of kindness. FreshBooks, an online invoicing and accounting service, randomly sends cakes to new users and long-time customers. The cakes are a way for the company to build a personal connection.
Promote customer service by building a free, helpful tool that complements your service.
CoSchedule's editorial calendar software makes planning blog content easier. However, bloggers also are interested in creating the best headlines to attract more people to their content. So, CoSchedule built a Blog Post Headline Analyzer to solve the problem.

The Takeaway
Leads are not just data: they're people. For SaaS growth, focus on how your team can use data to steer your services to the right people.
Develop a strategy that will create quality leads. Then, build buyer personas, awesome content, and an innovative customer success program.
So, go find'em, get'em, and keep'em.
Shayla Price
Shayla Price lives at the intersection of digital marketing, technology and social responsibility. Connect with her on Twitter: @shaylaprice.