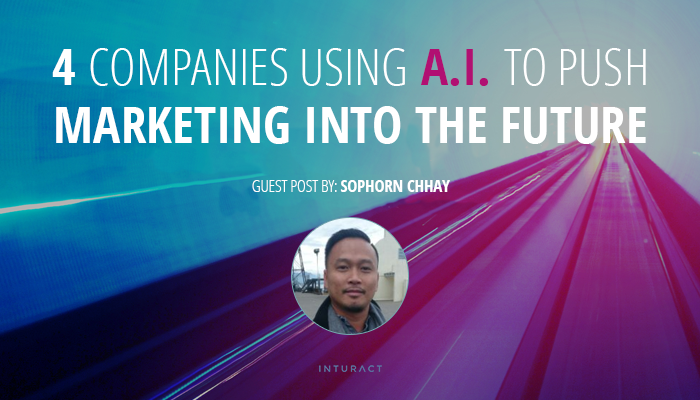 With machines becoming more and more sophisticated, people are often worried that robots and AI are going to take over their jobs. Siri has now taken the form of a personal assistant and fast food restaurants are putting in ordering kiosks to avoid the lines. So, even professionals like marketers are understandably concerned about the looming threat of AI. However, the AI we are seeing hit the market is actually more like the marketer's greatest ally.
Rather than replacing the human element of advertising, technology is offering new insights and allowing marketers to take their efforts even further with personalized advertising. Here are a few companies that have AI programs that stand out.
Every marketer should be using predictive analytics and big data to better address their audiences. AgilOne uses a machine learning ability to pull data from multiple channels and predict what users are going to do. The program can tell you what prospects are likely to buy, engage with your company or offer long term value. This program can also help segment your contact lists with prospects and customers that share behaviors, habits, needs and characteristics. A segmented list allows you to better appeal to specific groups within your contacts list for a more appealing strategy. You can use your segmented text messaging marketing list to send out local alerts, VIP deals and more.
If Siri has become an important assistant counterpart in the iPhone user's life, then Talla is going to rock a few socks in the Google/Office world. You can use your favorite messaging platform to communicate with Talla to complete menial tasks, such as share documents, pencil in appointments and more. Talla uses Natural Language Processing (NLP) technology to understand what you mean and respond appropriately to everyday English, instead of specific code words or characters. That means you can ask Talla to compile responses from multiple contacts, send out bulk texting campaigns or set up a mutual meeting with another professional on a date that works for both of you.
Marketers will love this assistant that specifically focuses on sales and marketing research. The GrowthBot chatbox can answer your questions for what software a specific company uses or what articles are ranking in the top results for a specific search term. You can use GrowthBot connected to Google Analytics or HubSpot to help you understand your metrics with a simple question. No more searching, your assistant can now intelligently answer your data questions.
Google announced toward the end of 2015 that they would be using the AI system RankBrain to help them interpret a large part of their search queries. RankBrain uses NLP to find relevant content that better fits the user intent. This is actually a good thing for marketers who are driven to provide their audiences with quality content and value in their inbound marketing solutions. RankBrain can help Google find the brands and articles that are worth reading, while marketers who are still stuffing keywords and publishing mediocre content are going to rank lower as less valuable articles.
Don't look at AI technology as a threat – look at how it can improve your efforts and push you even further above the competition. AI isn't going to turn us into a Jetson's society overnight, but it is certainly changing the landscape of the modern world at a very fast pace.

Sophorn Chhay
Sophorn is the marketing guy at Trumpia, the most complete SMS software with mass sms messaging, smart targeting and automation. Jumpstart your business by grabbing your free copy of his powerful Mobile Marketing Success Kit. Watch Trumpia's 5-Minute Demo on how to execute an effective mobile marketing strategy.