Don't waste time and money with marketing mistakes - learn from the pros!
Unlock Secrets to Launching & Growing Your SaaS Application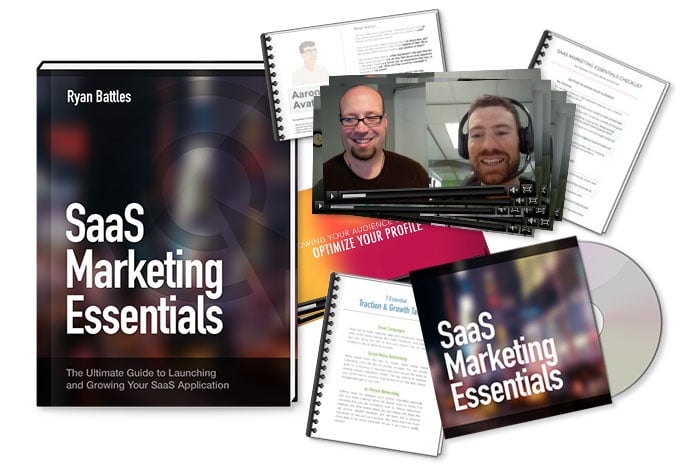 In SaaS Marketing Essentials, you'll learn how to:
Validate your idea - to make sure you really can turn a profit
Position your product and yourself, leveraging your personal brand to increase sales
Engage with your audience effectively
Measure results
Focus on what works
Grow by reducing churn and gathering customer evangelists!
Grand Prize
√ SaaS Marketing Essentials Book
PDF, EPUB, MOBI
√ SaaS Marketing Essentials Audiobook
MP3: 15 Separate Tracks, 11 Video Interviews with:
Hiten Shah, Rob Walling, Lincoln Murphy, Andrew Culver, Josh Pigford, Laura Roeder, Andy Johnson, Dan Norris, Samuel Hulick, David Sherry, Lars Lofgren
√ 7 Essential Growth and Traction Tactics Cheat-Sheet
Printable PDF
√ 10 Customer Avatar Templates
WORD, PAGES (Optimized Separately for Each)
√ Growing Your Product's Audience Via Twitter
5 VIDEOS: Optimization, Influencers, Engagement, Automation, Reciprocity
√ SaaS Marketing Essentials Key Ideas Checklist
Printable PDF
√ Lifetime Access to SaaS Marketers Mastermind Group
Private Facebook Group for discussion, bouncing ideas, and sharing knowledge & experiences
As Battles says:
Whether you're kicking a SaaS idea around in your head or are looking to level-up your current recurring revenue, this book shows you how to attract and convert new users.
The Founder of Drip, Rob Walling, says SaaS Marketing Essentials is "a focused and tactical guide to launching and growing a SaaS application, from someone who's walking the walk."
Co-founder of LessAccounting, Allan Branch, says "even within the first few chapters I had several 'oh snap' moments."
Host of Chasing Product and Founder of SmallSpec, Christopher Hawkins, says "Wow! Most marketing books are very vague, but I immediately grasped the nuts-and-bolts of Ryan's approach."
You know what we love here at Inturact? Genuinely helpful books that are NOT vague, that are focused, and written by someone who's got skin in the game.
And we're all about the "Oh Snap" moments.
Ryan Battles is an entrepreneur, web developer, designer, and marketer. For the past 10 years he has worked with clients as large as Google down to small non-profit organizations. After spending a few years working with a venture-backed startup in San Francisco—helping to grow their initial user base to over 50,000 customers—Ryan co-founded and built a handful of other web-based projects, including Harpoon and Find Bacon. Check out his website and follow him on Twitter here.
Ryan Battles is our kinda author, and this is our kinda giveaway. To get your hands on this SaaS studmuffin of a book, simply fill out the form.